London 2012: Learning the Olympic sporting lingo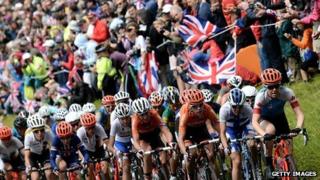 Picture the scene, you're with a group of friends and they start talking about the Olympics.
But as sports terms start to fly, it's all Ancient Greek to you.
They speak of repecharge and peloton, and you nod and smile as if you agree. Secretly, you have not got a clue.
Here we give you a guide to some of the different terms associated with Olympic sports. Experts need not apply.
Athletics
Anchor leg - This refers to teams competing in a relay. It is the final position in the race. Typically, the anchor leg is given to the fastest competitor on a team. The athlete completing is responsible for catching up with the race-leader or maintaining the lead already secured.
Spikes - These are something you wear on your feet if you are a track and field athlete. Put simply, they are trainers with spikes underneath which helps the athlete to run faster or perform better.
Cycling
Peloton - The main group of riders in a bicycle road race is called the peloton. Riders in a group save energy by riding close to each other. The reduction in drag - the force acting against the pack - can be as much as 40% meaning riders get further, more quickly. Riders can break away to then try to win the race.
Slipstream - A cyclist rides behind another cyclist meaning that they need less power to maintain that speed. Again it's not just the trailing rider who benefits, they reduce the effect of the low-pressure region on the lead cyclist, helping them go faster too.
Time trial - A test of a rider against the clock rather than another cyclist. Competitors compete separated by a minute or more and whoever completes the course in the fastest time is the winner.
Gymnastics
Front tuck - This element, also known as a front somersault is used most often in the floor exercise. From a run or other forward movement, the gymnast springs forwards and upwards tucking in their knees and rotating.
The body flips forward, and the legs and hips straighten to arrive at the ground. A common mistake is to throw the head down towards the ground.
Acrobatic gymnastics - This is the type of activity you would see at the circus although in the Olympics it is on a competitive scale. Gymnasts are paired together to combine the strength, flexibility and technical precision of gymnastics with the musicality of dance.
Artistic gymnastics - Gymnasts perform short routines on different apparatus. This can include the vault, where a gymnast sprints down a runway before leaping onto a spring board or the balance beam.
Rhythmic gymnastics - Competing in a team or as an individual, rhythmic gymnasts manipulate one or two pieces of apparatus - rope, clubs, hoop, ball, ribbon and freestyle, which means no apparatus.
Think ballet, dance and gymnastics rolled into one with fancy costumes and you've got it.
Modern pentathlon
A contest featuring five different events. The modern pentathlon was invented by Pierre de Coubertin, otherwise known as the father of the modern Olympics. There are competitions in shooting, swimming, fencing, equestrian, and cross country running. At London 2012 athletes must complete the events in one day.
Not to be confused with heptathlon which is a track and field competition made up of seven events - 100m hurdles, high jump, shot put, 200m run, long jump, javelin throw, 800m run.
Or the decathlon which is ten events over two days - 100m run, long jump, shot put, high jump, 400m run, 110m hurdles, discus throw, pole vault, javelin throw and 1500 metres run.
Rowing
Repechage - This is a system used in many different sports and allows the losing team of a heat to race again and get the chance to go through to the finals, thus ensuring that the best crews get to compete. It's basically a second chance.
Flutter - While novices might refer to a flutter as a bet, rowing experts know it is when the coxswain - the person on the boat who shouts directions to the team - calls a "six-stroke start" into the race, close to the end. This technique may push one boat, which is falling behind another, ahead.
This is last chance saloon - a desperate attempt to get ahead, by pulling six strokes with the oars. At this point you could imagine the coxswain shouting: "give it some welly".
Swimming
Freestyle - Those who are fans of dancing might think this is where you can throw any moves you want.
However, while it is an unregulated swimming style it does have to abide by certain rules such as, some part of the swimmer must be above water at any time, except for the first 15 metres after the start and every turn.
The front crawl - face down, arms above head - is most widely used but swimmers can use doggy paddle or sidestroke techniques too. Any style can be used in individual races but breaststroke, butterfly or backstroke must be used when competing in teams.
Dolphin kick - This is a technique swimmers use when moving their legs , emulating the way a dolphin cuts through the water with its flipper.
Done correctly it can provide a surge through the water worth half a body length's advantage on every turn.
Think about how you would expect a mermaid or merman to swim and there you have it.
Shooting
Skeet - It is one of the three major types of competitive shotgun target shooting sports. The others are trap shooting and sporting clays.
In Olympic skeet, there is a random delay of between nought and three seconds after the shooter has called for the target to be released. The shooter must also hold the gun so that the gun butt - the bottom of the gun - is at mid-torso level until the target appears.
Olympic shooting is divided into three different groups - rifle, pistol and shotgun.
Triathlon
What is it? - A multi-sport event involving the completion of three continuous and sequential endurance events. The most popular form, involves swimming, cycling and running in immediate succession over various distances.
It consists of a 1500m swim, followed by a seven-lap, 43km bike ride and ending with a four-lap, 10km run.
Ironman - This is not a term used at the Olympics but is still relevant to the sport and will keep you going long after London 2012 has finished.
It is a series of long-distance triathlon races consisting of a 2.4-mile swim, a 112-mile bicycle race and a 26.2-mile marathon, raced in that order and without a break.