Olympic food and drinks shortages prompt supplies boost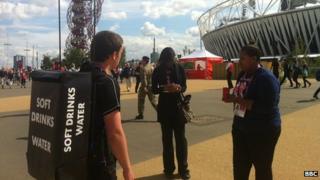 Food and water supplies are being increased at Olympic venues after long queues and supply shortages during the opening days, organisers have said.
Football fans said food ran out at Wembley Stadium on Sunday and there were long queues for water fountains at Greenwich Park in London.
Locog "reacted overnight" to problems at several venues, their director of sport Debbie Jevans said.
"There'll be mobile units moving around selling things like water," she added.
"We are aware of things and have reacted to it."
Empty bottles
The move comes after problems including:
Half-hour queues for water fountains and 45-minute queues at food outlets at the dressage in Greenwich Park on Saturday
Food and drink shortages at Old Trafford for the double-header of opening games of men's football on Thursday
Food and drink shortages of items like noodles, pizza and beer at Sunday night's two football matches at Wembley Stadium
Long queues for food at the opening ceremony when crowds left their seats to eat during the athletes' parade
Spectators can take empty bottles but not drinks of more than 100ml into the Olympic Park and other venues.
There have also been complaints after the card payment system failed at Wembley Stadium.
Primary school teacher Mark Williams, from Kersey, Suffolk, was at the dressage in Greenwich on Saturday. He said there were 45-minute food queues and waits of half an hour for free drinking water.
"They were little fountain water things that you have in an office. They have a very thin jet, and there were at least 150 people in the queue," he said.
"People were there from five to 95 (years old) it was quite humid and the sun was out so people did get thirsty quite quickly.
"People said 'this is unbelievable'. There were 15-minute intervals in the dressage and people were missing the event to get water.
"I would presume it's not a village fete type of thing, it was just ridiculous."
Lesley Fionda from Epsom, Surrey, said by half-time in the second of two games at Wembley Stadium on Sunday night there was no milk for teas and coffees and fish and chips and steak and sausage baguettes had run out.
She said: "What I don't understand, is it's a purpose-built stadium, it's not its first use.
"They should have thought about the fact that people were going to be there for a long time."
In a statement, Locog said it was increasing food and water supplies at venues and on the Park.
"There are multiple water points and concessions at each 2012 venue," it said.
"Following high levels of demand in the first days of competition we have increased provisions and also introduced roaming concession sellers at venues."
Catering will continue to be reviewed throughout the Games.