Newspaper review: Team GB gymnasts on many front pages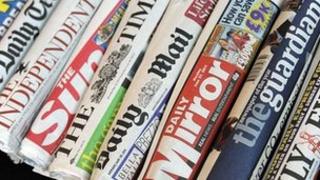 Team GB's gymnasts are on several front pages after the first medal win in the men's team event for a century.
The Times calls them "the history boys" with a picture of one of the bronze medallists in mid air. The photo takes up half of the Guardian's front page.
The Daily Telegraph has all five under the headline: "Gymnasts on a roll" . The 'I' also has all five referring to "the bronze that made history".
The Sun says the bronze is "historic" but asks for "just one gold".
Ye Shiwen row
The Daily Mail, Times and Guardian lead on Chinese swimmer Ye Shiwen's insistence that she won gold on Saturday without help from any drugs.
The Times says aspersions cast on Ye by a US coach have provoked a backlash in China, where bloggers say the row is an excuse to attack Chinese sport.
The Guardian says they are likely to increase Chinese-US tensions .
The Mail says cleaners at the athletes village have been asked to report anything that could be doping-linked.
'Ghost town' effect
The Financial Times says the Olympics are creating a "ghost town" effect in central London, casting doubt on expectations of an economic boost.
The FT says the Games have attracted some 100,000 people to London - but on its own that lags behind the 300,000 tourists expected in a typical year.
Nina Burns of theatre company Nimax tells it: "We're bleeding, darling..."
The Telegraph has a similar tale from Weymouth - hosting the sailing - where retailers say the resort is "dead".
King Solomon's wives
Some papers report that a loophole in the government's welfare shake-up means immigrants with more than one wife will get additional cash benefits.
The Sun says extra wives will count as single people rather than spouses under the Universal Credit System.
The Daily Express leads on the story , which it describes as a "scandal".
"Thank goodness," it says in an editorial , "the Bible's King Solomon didn't settle here with his 700 wives and 300 concubines."