Abu Qatada loses latest bid for freedom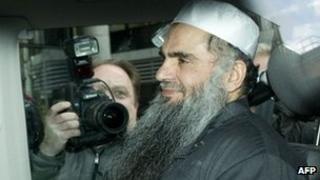 Radical cleric Abu Qatada has lost his latest bid to be freed from custody.
High Court judges Lord Justice Hughes and Mr Justice Silber said they were satisfied his appeal against continuing detention should be rejected.
They said managing the risk posed by the preacher during the Olympics - were he to be freed - would be "exceptionally problematic".
Abu Qatada is seeking to be freed while fighting his deportation to Jordan, where he faces terror charges.
His lawyer Edward Fitzgerald QC earlier told the court in London his detention for almost seven years was "disproportionate and unlawful".
"Our submission is that the detention has already gone on for so long as to be disproportionate and unlawful," he said.
"There comes a point where detention is just too long, and this is the longest period of administrative detention, so far as we know, in modern English history."
"It cannot be right, when we are already at seven years - and when there is an inevitable likelihood this is going to go on for at least another year - for there to be continued detention."
'Dangerous man'
The Special Immigration Appeals Commission ruled in May his detention by Home Secretary Theresa May was lawful.
Speaking before the hearing, the Home Office said Abu Qatada's legal team were "clutching at straws" in their attempt to get "this dangerous man" released.
The preacher claims he could be tortured in Jordan if the UK deports him.
But a panel of European judges of the Grand Chamber ruled on 9 May that the UK government had received satisfactory assurances from Jordan he would not.
The ruling said he should not be deported until there were further assurances that his expected retrial on terrorism offences would not include evidence obtained by torture of others.
Abu Qatada, who is being held at Long Lartin Prison in Worcestershire, was convicted in his absence in Jordan of involvement with terror attacks in 1998.
He is accused of involvement in several bomb attacks and a judge has described him as the late Osama bin Laden's right-hand man in Europe.
The Special Immigration Appeals Commission is due to rule on his deportation at a tribunal hearing in October.