Wanted Briton arrested in Portugal after drug yacht seized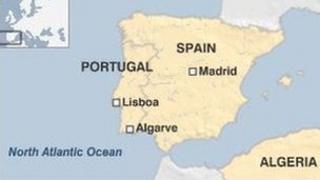 A Briton wanted in connection with an alleged multi-million pound drug smuggling plot has been arrested in Portugal, police said.
Serious Organised Crime Agency officers said Lee Dryden, 49, was arrested with another Briton and two Germans.
The arrest came after 178kg (390lb) of cocaine was seized from a yacht on the Algarve.
Mr Dryden has been wanted by police since 2007 when a boat carrying cocaine capsized off the Irish coast.
The second British man arrested with Mr Dryden is thought to be from Kettering in Northamptonshire.
A fifth person has been arrested in Spain in connection with the Portuguese investigation.
Officers from the Maritime Analysis and Operations Centre (MAOC) believe the yacht seized in the Algarve - the Delfin - had travelled from South America.
The alleged drug smugglers had been tracked for a year by the MAOC, before July's arrests.
Diesel error
Conor Shields, head of operations at the MAOC in Lisbon, Portugal, said "strong international co-operation" between a number of countries led to the seizure.
"The operation came to a conclusion at the back end of last week when the Portuguese police seized 178kg of cocaine and arrested four men.
"The international investigation is ongoing and then it will be for the Portuguese authorities to decide whether to prosecute."
He added that it has become common for smugglers to try to bring the drug from South America or the Caribbean to Europe.
Mr Dryden is wanted for questioning in connection with a plot in July 2007 when an inflatable boat loaded with £320m of cocaine overturned off the south-west coast of the Irish Republic.
The boat's engines had failed after one of the five-man gang filled the fuel tank with diesel instead of petrol.
Bales of the drug, believed to have come from Colombia via Barbados, were left floating in the sea.
Gerard Hagan from Liverpool, former policeman Michael Daly and his brother Joe, convicted police-killer Perry Wharrie and another man, Martin Wanden, were convicted of involvement in the plot.