London transport survives Olympic stress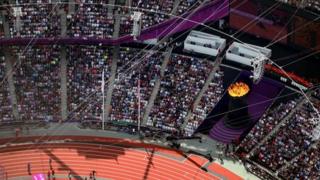 London's transport system has survived its toughest Games test yet as 200,000 people travelled to the Olympic Park for the first day of athletics.
Other than the closure of one Tube line for 45 minutes on Friday, there were no major problems, transport chiefs said.
Team GB have won three golds and four bronze medals, making a total of 22.
Meanwhile, Princes William and Harry have said they were "kept in the dark" about the Queen's unlikely meeting with James Bond in the opening ceremony.
London Mayor Boris Johnson said the transport system was "holding out very well" on a day that saw up to 80,000 spectators at the Olympic Stadium for the morning session of the athletics - followed by the same number in the evening.
"You saw the pictures of that stadium this morning - it's incredible, it's rammed with people," he said.
"There will be difficulties, there will be imperfections, but it's holding out very well."
Transport for London warned Londoners and visitors to the capital that the network would be busier than usual from 21:00 BST until it closed.
Motorists, meanwhile, are being warned to avoid driving near Hyde Park Corner on Saturday with roads closed because of the women's triathlon - and a men's triathlon rehearsal - at Hyde Park.
And train companies say they are providing an additional two million seats this weekend.
In another strong day for Team GB, the men's track cycling pursuit team beat Australia - in a new world record time - to win Great Britain's seventh gold medal of the Games.
And minutes later, cyclist Victoria Pendleton won an eighth in the keirin at the velodrome.
Earlier, Katherine Grainger and Anna Watkins won gold in women's double sculls.
In other developments:
Meanwhile, Prince William and Harry, in a BBC interview with Sue Barker, spoke of the "inspiration" provided by the Olympic Games.
"The support of the British public is something else," Harry told the BBC. "The buzz... is astonishing."
The princes revealed they knew nothing of the Queen's role in the opening ceremony when she appeared in a short film with James Bond - actor Daniel Craig.
"We were kept completely in the dark about it, that's how big the secret was," William said.