Newspaper review: Papers rejoice over medal 'deluge'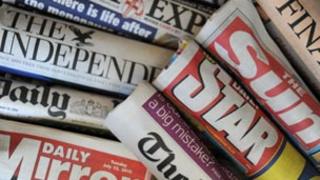 The newspapers report with delight the slew of Olympic successes for Team GB on Thursday.
"It's raining medals" is the headline for the Independent.
For the Times, it was a "golden day for British sport", as "a long drought turned into a deluge".
The Daily Mirror says two of the day's three golds, in canoeing and shooting, were won in "five magical minutes".
Sir Chris Hoy's fifth Olympic gold medal is celebrated by the Sun's "Medals Ahoy!" and the story of Olympian Gemma Gibbons is that of a "gutsy British underdog" according to the paper, following her judo silver medal.
The paper says she paid tribute to her mother who died of leukaemia in 2004.
'More to come'
And the Daily Telegraph says the gold medal winning canoeist, Tim Ballie, was also inspired by tragedy.
His uncle, Mike Jones, was also a canoeist but was swept to his death in 1978 while trying to rescue a colleague who had capsized.
There's plenty of coverage of Britain's other medallists. Peter Wilson, who won gold in shooting, is "the golden shot" in the Daily Mail.
And there are more medals to come, according to the Sun.
This is because Rebecca Adlington is competing in the pool and Jessica Ennis starts her campaign in the heptathlon, it says.
The Times says Friday is going to be Ladies' Day, with more than two dozen women aiming to boost the nation's medal total.
Lords reform
The former international envoy to Syria, Kofi Annan, writes in the Financial Times to explain his decision to resign from the post.
He says President Assad must leave office, and calls for courage and leadership from the permanent members of the UN Security Council.
The Telegraph says David Cameron will soon announce that plans for reform of the House of Lords have been shelved.
The paper says the prime minister has failed to win over Tory rebels.