Jamaica's first golden giant: Arthur Wint remembered on Newsday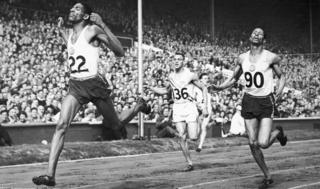 It was a breathtaking performance.
On a cool Sunday night, Usain "The Lightning" Bolt struck at a second Olympics, retaining his 100m title.
But despite his blistering time of 9.63 seconds - the second fastest 100m ever - Bolt was soundly beaten in the race to be the first Jamaican man to win gold in London. By 64 years.
Arthur Wint may not be a household name for modern-day spectators, but he won the island nation's first-ever Olympic gold the last time the Games were held in London, in 1948.
Wint equalled the world record of 46.2 seconds in the 400m final at Wembley Stadium, coming from behind to beat compatriot Herbert McKenley, who took silver.
As Jamaica didn't gain full independence from Great Britain until 1962, when he collected his gold medal, the anthem that was played was God Save the Queen.
A hug from Bolt
Known as the Gentle Giant, 6'4 Wint was 28 when he won that historic gold, having already seen active combat as a Royal Air Force pilot during World War II.
One man who raced against him was John Parlett, who also competed in the 1948 Games.
"People used to gasp when they saw him running because people that were running behind him looked as if they were doing two strides to his one," remembers Mr Parlett.
Wint left the RAF in 1947 to study medicine, qualifying as a doctor in 1953 and being made a Member of the British Empire (MBE) by Queen Elizabeth II the following year - having secured another world record and Olympic gold in the men's 4x400m relay in Helsinki 1952.
Wint served as Jamaica's High Commissioner to Britain and ambassador to Sweden and Denmark from 1974 to 1978 and, although he died in 1992, his memory lives on.
A street in Kingston was renamed Arthur Wint Drive in his honour and The Voice newspaper - a Caribbean-focussed weekly published in the UK - describes Wint as "the Originator".
He has had a major impact on current Jamaican runners - including Usain Bolt.
In an interview with the BBC's Newsday programme, Mr Parlett recalled how Wint's wife, Norma, was in a supermarket in Kingston and saw the current Olympic champion.
"She introduced herself and he knew the name and he gave her a great hug," said Mr Parlett.
Sprint hat-trick?
Runners hold a special place in the hearts of Jamaica's three million inhabitants.
In Beijing four years ago, the island had its biggest-ever medal haul, taking home six golds, three silvers and two bronzes, with Bolt famously winning the 100m, 200m and 4x100m relay in world record times.
On Sunday night, Jamaica achieved an impressive one-two, with Bolt's training partner Yohan "The Beast" Blake taking silver in the 100m.
The result came on the heels of Shelly-Ann Fraser-Pryce retaining her 100m title in style on Saturday with fellow Jamaican Veronica Campbell-Brown finishing third.
The performance of Jamaica's modern-day sprint heroes will be seen by many as a fitting way to celebrate the 50th anniversary of the island's independence from Great Britain on Monday.
For all the excitement and broken world records, though, for John Parlett London 2012 will never quite match up to London's last Olympics.
Asked how he would sum up the 1948 Games in two words, Mr Parlett didn't hesitate. "No comparison," he said.
But that might not just be down to the athletics: Mr Parlett met Dorothy Gladys Manley while training for the Games at a Butlins holiday camp in Clacton.
Dorothy won silver in the women's 100m and went on to become Mrs John Parlett.
BBC Newsday will be broadcast live from Jamaica House in Stratford on Monday. You can listen to the programme on the BBC World Service from 03:00-08:30 BST.