Has Olympics ticket fever boosted Paralympics sales?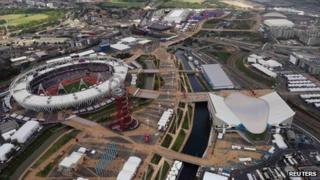 With much of Britain gripped by Olympics fever, up to 2.5m people a day are accessing the official London 2012 website in a desperate search for tickets.
But has the extraordinary demand for seats also led to a spike in Paralympic ticket sales?
The organisers certainly seem to think so - and they are hopeful that London could yet become the first ever sold-out Games.
Cycling at the Velodrome and wheelchair tennis (played on hard courts at the Olympic Park rather than Wimbledon) have now sold out - but seats are still available for high-profile events like athletics.
'Through the roof'
Locog say 1.4m tickets had been sold for the Paralympics, which start on 29 August, by the eve of Danny Boyle's opening ceremony. This was a jump of 200,000 since June - leaving 900,000 seats unsold.
But while the organising committee is not providing daily sales updates, the International Paralympic Committee (IPC) says interest has gone "through the roof" since Team GB shot up the medals table.
Londoner Charles Ivens told the BBC he decided to buy Paralympic tickets after growing frustrated with the process of trying to buy Olympic tickets.
He said: "After 'phantom Olympic tickets' frustration... I went for the Paralympics. A boat-load of finals in the stadium for £30 each… I'm super-excited about it now."
Scottish swimming fan Stefan Hoggan bought tickets on Friday to see James Anderson compete in the pool in his sixth Paralympics.
He said: "I just got them - I can't wait."
British Success
Craig Spence from the IPC says the governing body has seen traffic to its website and social network pages rocket by between 25% and 200% since the Games opened on July 27.
Mr Spence said: "People have seen the packed stadia and the special atmosphere that has been created around the Games in London and they want to be part of it.
"They have also seen how much people have enjoyed watched Team GB win gold, whatever the sport - and we are likely to see even more British success at the Paralympics.
"Traditionally we see a spike in interest once the Olympic Games begin, but London has taken it a step further, as the first fully digital games to make full use of sites like Facebook and Twitter to get the word out."
There have been 15 summer Paralympic Games since the first in Rome in 1960 and most have seen large numbers of seats given away for free.
Sydney sold 1.2m tickets in 2000 and Athens managed 850,000 four years later.
Beijing sold 1.8million, mostly at rock bottom prices, but still had to give away another 1.8million to fill the city's huge venues.
Strength in depth
London 2012 organisers believe affordable ticket prices will help shift the remaining Paralympic seats.
Some 75% cost £20 or less and the most expensive ticket for the men's 100m final on September 6 will set you back £45 - less than the cheapest seat for the same event in the Olympics.
Tim Hollingsworth, chief executive of the British Paralympic Association, told BBC News: "Since the start of the Olympics, Games fever has hit the country and we have seen a noticeable rise in the number of enquiries we are receiving and the number of people following us on Facebook and Twitter.
"While ticket sales so far have been stronger than for any other Paralympics, we want the stadia to be packed to the rafters with British supporters.
"I can promise exhilarating sport in stunning venues with all our GB athletes ready to put it all on the line for our country."
The IPC is predicting a further round of frenzied ticket-buying after Oscar Pistorius - known as the "blade runner" - makes history as the first double amputee to compete in the Olympics.
Mr Spence said: "People are beginning to realise how many elite athletes we have. Some assume that if Oscar Pistorius can compete with able-bodied athletes, he must win every Paralympic event easily.
"But he will be doing very well if he manages to retain his 100m title. There is real strength in depth - it will be a fantastic spectacle."