Memories of a past Olympics: 1908 commemorative medal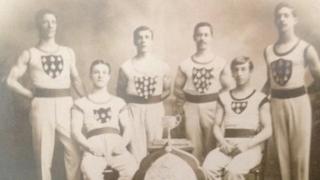 Great Britain has been climbing up the medal table in this year's Olympics Games. London 2012 has seen Great Britain's men's gymnastics team claim a medal for the first time in 100 years.
Back in 1908, London hosted its first Olympics and Great Britain's gymnastics team played a part with each gymnast being presented with an Olympic commemorative medal.
Edward Blatch was one of the gymnasts, his medal now belongs to his grand daughter and her family. Here, Charles Fleming, a family member of Edward's, tells the story of this special medal.
"An Olympic commemorative medal was presented to my wife's grandfather at the 1908 Olympic games in London. His name was Edward Blatch. He was a recognised British athlete and also took part in the then Empire Games, or as we now call them - the Commonwealth Games.
Edward was part of the gymnastics team of Britain during the 1908 games in London. He took part in an exhibition event and was awarded a commemorative medal along with all the other athletes at these games.
He wasn't part of the competing team, he only took part in the exhibition event at the White City stadium.
We think he didn't take part in the actual competitions because his speciality was the rings and I don't think that was recognised as an official Olympics sport at the time.
The interesting story of the 1908 Games is that they were supposed to take part in Italy, but because Mount Vesuvius erupted, London was given the opportunity to host them. The White City Stadium was built very quickly because of that.
On one side of the medal you see the names of Elis, which is where the first Olympic games were held, Athens, Paris, St Luis and London, which is where modern Olympic games have been held so far.
I am sitting here with my wife and her sister and the medal is right in front of us as we are watching the games on TV.
We are very proud to have that history in our family."