Great Britain's golden day for Olympians celebrated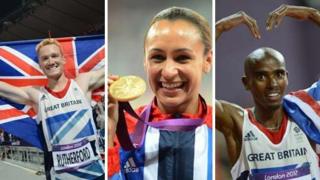 Praise has poured in for Team GB after they won six golds on their greatest day of Olympic action since 1908.
Golds in rowing and cycling set the tone before heptathlete Jessica Ennis, long jumper Greg Rutherford and 10,000m runner Mo Farah won their events.
Speaking on BBC Breakfast, Ennis said she has decided not to compete in the 100m hurdles at the Games.
British medal hopes later include sailing, and tennis where Andy Murray is playing for two golds at Wimbledon.
Ennis, 26, who set a British record in the 100m hurdles on Friday morning as part of the heptathlon, said her body needed a "rest".
"I did seriously contemplate it but for me it was just about the heptathlon. I'm more than happy coming away with this medal and I just want to enjoy this moment as much as I can," she said.
Locog chairman and two-time 1500m champion Lord Coe described the events in the Olympic Stadium as "the greatest night of British athletics".
"I think we've witnessed something sensational," he told BBC Radio 5 live, after a day that saw Team GB move to third in the medal table with 14 gold medals, seven silvers and eight bronzes.
Lynn Davies, president of UK Athletics, said: "It was an astonishing experience to be there. I don't think I'll ever see anything like that again in my life."
London mayor Boris Johnson also paid tribute to Team GB, saying it had been a remarkable first week of the Games.
"Their extraordinary efforts have brought rapture to streets, parks and living rooms in London and all over the country, if not the planet."
Sunday's highlights for Team GB include:
There will be road closures in central London as the women's marathon takes place from 11:00 BST to 14:00, starting and finishing at the Mall, with many bus diversions.
And Usain Bolt and his fellow sprint stars will command attention in the 100m final.
Meanwhile, the Chairman of the British Olympic Association is expected to urge the government to capitalise on the goodwill that the Games are generating by re-thinking its policy towards sport in the UK.
The BBC's Adam Parson says many are predicting cuts when funding is reviewed after the Olympics but Lord Moynihan will tell ministers there is a once in a lifetime chance to inspire young people and increase participation.
Earlier this week, Lord Moynihan talked of a need to strengthen the level of coaching support to nurture future Team GB Olympians.
Saturday saw commanding performances from Team GB's athletes - some more expected than others.
Ennis began a stunning 45 minutes of triple athletics gold in the evening by rounding off her heptathlon victory in the 800m.
She had led her rivals after the four events on day one, before as good as sealing gold with strong performances in the long jump and javelin on day two.
Within minutes Greg Rutherford was an unexpected winner of the men's long jump with a leap of 8.31m, Britain's first Olympic gold in the event since Lynn Davies in 1964.
"What a night for British athletics," Rutherford told BBC Sport. "Three gold medals. It's absolutely incredible."
The hat-trick was completed by Mo Farah, who became the first British athlete to win Olympic gold at 10,000m.
"I just can't believe it. It's never going to get any better than this. It's the best moment of my life," he said.
In other developments on Saturday:
Many people took to social networking website Twitter after Saturday evening's events to pass on their congratulations.
Prime Minister David Cameron tweeted: "Awe inspiring win for Jessica Ennis. Proud to be cheering her on with the home crowd. Atmosphere electric on #SuperSaturday."
Former 400m runner Roger Black tweeted: "Thankyou for inspiring a generation - the legacy of 2012 will be huge".
Paul Steeles, from Surrey, who was among the 80,000 people in the Olympic Stadium, said he was "immensely proud to be British".
"The atmosphere and sheer delight in the Olympic Stadium from all spectators of all countries was something I will never ever feel again, and it's a night that I will never forget," he told the BBC.