Newspaper review: Coalition is reeling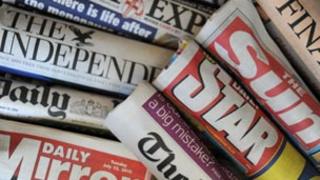 The Guardian says the "coalition is reeling" after the Lib Dems abandoned plans for Lords reform, saying they could not get Conservative support.
The Daily Express says it's "civil war" with the Deputy PM withdrawing support for Tory-led boundary changes.
Nick Clegg is "knee-capping" David Cameron, the Daily Mirror says.
The Daily Telegraph says they increasingly resemble a couple trapped in a loveless marriage, kept together not by hope but by fear.
Demoralised army
Monday's defection by the Syrian prime minister to the rebel cause is a "devastating setback" to President Assad's regime, the Times says.
The Telegraph's Richard Spencer reports from Aleppo where the Syrian army continues to bombard rebel positions from afar.
But he says it has yet to mount a decisive offensive.
He questions whether the demoralised army is in a position to take on the rebels in street-by-street fighting.
Welcome pace
Several papers hail the GB showjumping team including Nick Skelton, 54, who has had a hip replacement.
He is still sprightly, compared with Japanese dressage rider Hiroshi Hoketsu, 71, says the Daily Mail.
The Sun, meanwhile, says 100m champion Usain Bolt is waiting for a call from Sir Alex Ferguson for a trial at Manchester United.
Fans tell the paper that, with Ryan Giggs nearing retirement, he would add a bit of welcome pace on the wing.
Yorkshire republic?
The Independent notes that Yorkshire has long considered itself to be much more than just a mere county.
Non-natives were banned from the cricket team until 1972 and white rose diehards still celebrate their own national day on 1 August.
The paper calculates that, if Yorkshire was a sovereign state, it would be lying 10th in the medals table.
That would put it ahead of such sporting powerhouses as Australia and South Africa, the paper notes.