UK spent £3m last year to improve foreign prisons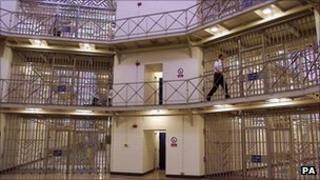 The government spent £3m last year on a scheme to improve prisons in Jamaica and Nigeria in order to send inmates in UK jails back to their home countries.
The Returns and Reintegration Fund works to achieve better jail conditions in other countries.
The fund, created in 2008, aims to help improve standards so more prisoners can be deported from UK jails to serve their sentences in their home country.
The Ministry of Justice said the aim was to save money for UK taxpayers.
The cross-government fund is also intended to support work to aid the return of prisoners to their home countries.
Justice Secretary Kenneth Clarke has previously said it would be used to help cut reoffending in a number of countries with high foreign national offender populations in prisons in England and Wales.
An MoJ spokesman said: "Foreign national prisoners should serve their sentences in their home country.
"We need to make sure these sentences are properly enforced, and work with other governments to share best practice, improve standards and ultimately save the British taxpayer money."
'Reduce overcrowding'
The £3m spent in the past financial year came from the Foreign and Commonwealth Office (FCO), Department for International Development (DfID) and the UK Border Agency (UKBA), the FCO's 2011-12 annual report said.
It states: "The FCO worked with other governments to facilitate the return of foreign national offenders and failed asylum seekers. The FCO/UKBA/DfID/MOJ Returns and Reintegration Fund also spent over £3m on supporting returns and helping develop closer working relationships with priority countries."
A DfID spokesman confirmed it was an annual sum.
The MoJ is on the fund's steering board alongside the three government departments and provides justice sector expertise, an MoJ spokesman said.
According to MoJ figures from 31 March, the prison population in England and Wales stood at 87,531, of which 74,475 were British nationals, 11,127 were foreign nationals and 1,929 were "nationality not recorded".
"One of the objectives of the Jamaican project is to assist the Jamaican authorities in modernising their prison service and rehabilitation and reintegration activities," a spokesman said.
"In Nigeria, one project supports an NGO (non-governmental organisation) to provide human rights training for prison officers in three states.
"The second project will result in the construction of guards' facilities at a women's prison in Lagos to reduce overcrowding."