BBC should not hand over Duggan shooting footage - judge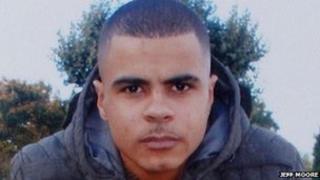 A judge has said the BBC does not have to give the Metropolitan Police unbroadcast footage of the aftermath of the shooting of Mark Duggan.
The shooting sparked rioting in Tottenham, north London, last August, which later spread across the capital and to other parts of England.
Police applied for the footage as part of their probe into Kevin Hutchinson-Foster, who is accused of supplying Mr Duggan with a gun, something he denies.
The BBC had argued it was not relevant.
Judge David Radford, at Snaresbrook Crown Court, said he was not satisfied the material had substantial value to the case.
The broadcaster welcomed the ruling, saying it upheld important journalistic principles.
A BBC spokeswoman said: "On this occasion we opposed the court order because on the evidence provided by the police we were not satisfied the material was relevant to their investigation."
Firearm charge
Mr Hutchinson-Foster, 29, was charged with possession of a firearm after allegedly assaulting a man in a hair salon in Hackney on 29 July last year.
Police believe the weapon used could be the same gun found at the shooting of 29-year-old Mr Duggan, who was shot when his taxi was stopped by armed police officers investigating gun crime on 4 August last year.
Mr Hutchinson-Foster's trial is due to begin next month.
Last month, the judge ruled that seven police officers could give evidence anonymously at Mr Hutchinson-Foster's trial. The judge said he made the order to prevent them from coming to harm.
A service was held to mark the death of Mr Duggan on Sunday, a year on from his death.
The Independent Police Complaints Commission is compiling a report that will be passed to a coroner in the autumn.
An inquest into the death of the father-of-four is due to take place in January but there is a possibility that some evidence about police operations will need to be heard in secret, which would mean that a special type of public inquiry would need to be held instead.