Olympics: Team GB look to add to 25 golds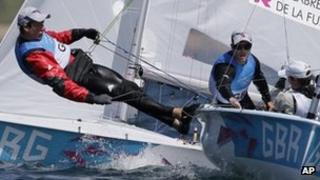 Team GB have a number of chances to add to their 25 Olympic golds, including in men's and women's sailing medal races.
Partners Luke Patience and Stuart Bithell, and Saskia Clarke and Hannah Mills, could secure double gold success in the 470 classes at Weymouth.
And Sarah Stevenson is going for a second British taekwondo gold.
Meanwhile, Labour Leader Ed Miliband has backed calls for political consensus to get more children involved in sport after the Olympics.
He said he agreed with Dame Tessa Jowell, former Labour Olympics minister, who has appealed for a non-partisan 10 year plan to build on the legacy of the games.
Mr Miliband told the BBC there was a need to "look at the successful experiences of school sport partnerships, which this government has so far been sceptical about and say, look let's build on that".
"It's no good blaming the teachers or blaming everybody else for what's happening in our schools. Let's work together to find ways in which we can build on that legacy," he said.
Politicians have been keen to add their voices to calls for more school sport but Prime Minister David Cameron has said compulsory targets would be a box ticking exercise.
Meanwhile, the owner of a family-run south London furniture store burned down in the 2011 riots has been invited to the Olympics Games closing ceremony.
Maurice Reeves, 81, who owns House of Reeves Furniture was invited by Deputy Prime Minister Nick Clegg.
The Liberal Democrat leader, who has been given 18 tickets to the ceremony - expected to include performances from acts including the Spice Girls and George Michael, is giving 12 of them away to "inspirational" people he has met.
Mr Clegg said it was a privilege to celebrate the achievements of "sporting heroes with just a few of the inspirational people I have met over the past year, who have made such a significant contribution to their communities".
Team GB won three golds and a bronze on Thursday when highlights included:
Other Britons hoping for medals on Friday include BMX riders Liam Phillips, in the men's, and Shanaze Reade, in the women's final.
The women's hockey team will aim to equal their best ever Olympic performance - at Barcelona 1992 - when they take on New Zealand in a bronze medal match.
And bantamweight Luke Campbell, welterweight Fred Evans, middleweight Anthony Ogogo and super-heavyweight Anthony Joshua all have the chance to guarantee at least silver medals in boxing semi-finals.
Meanwhile, Australian quadruple sculls rower Chris Morgan used his bronze medal to get into the ExCeL arena after security did not recognise him from his photograph because he had grown facial hair.
He was allowed in after he pulled out his medal and said: "How's that for ID?"
Fellow Australian Robyn Glynn, whose late father George Avery won silver in the triple jump at the London Olympics of 1948, has admitted scattering his ashes at the Olympic Stadium on Thursday night.
She told a radio station in Sydney she and her family had snuck down to the edge of the track before letting his ashes go in the breeze before they travelled "right over the triple jump run-up".