Newspaper review: Papers criticise Tia police inquiry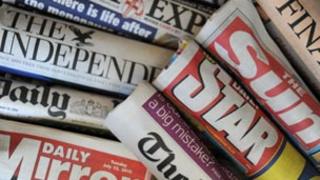 Many papers seem to agree that what has now become a murder inquiry after the disappearance of Tia Sharp has been, in the words of the Daily Mail, a "shambles".
"Why did it take the cops eight days?" asks the Daily Mirror.
The Independent says police are facing difficult questions. The Daily Star says neighbours are feeling "let down".
The Sun says the first priority now must be for justice to take its course, but when the case is over the Met must answer for its humiliating bungles.
War crimes
Several papers express concerns about the latest announcement of £5m of aid for the Syrian rebels.
The Daily Telegraph points out that human rights groups have accused the rebels of war crimes.
The Guardian says Britain should make it clear that human rights abuses will bring support to an end.
The Daily Express says a cancer patient called David Cameron on a radio phone-in show and told him there were more deserving causes nearer to home.
Going for gold
With no new gold medals to crow about, many of the front pages look ahead to one of Team GB's main medal prospects in the day ahead.
The Guardian, Independent and Daily Telegraph picture Mo Farah who is going for gold again in the 5,000 metres.
"It's Mo's moment", says the Independent. The Telegraph says he is making a "final push for glory".
A poll in the Guardian suggests 55% of Britons think the Games were worth the money spent on them for cheering us up.
Games tribute
Two papers are claiming an exclusive with the publication of a poem by poet laureate Carol Ann Duffy.
In the poem she pays tribute to Britain's medallists, calls for more cycle lanes and demands the return of school playing fields.
Published in full in the Guardian and the Daily Mirror, it concludes: "We sense new weather. We are on our marks. We are all in this together."
This, perhaps, a reference to David Cameron's election campaign slogan.