Mo Farah and other Olympic stars support campaign against hunger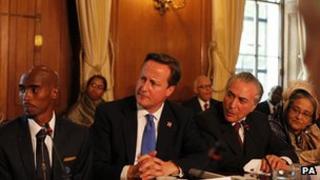 Olympic stars including Team GB's Mo Farah have called for action to tackle child malnutrition in developing nations, at a Downing Street meeting.
The double gold medallist, who was born in Somalia, said millions of children in Africa and elsewhere needed help and their suffering "touched his heart".
Others attending the "hunger summit" at No 10 included Pele and Ethiopian runner Haile Gebrselassie.
Prime Minister David Cameron said progress would be a wonderful legacy.
The UK hopes to get commitments from other world leaders and multinational firms to help prevent 25 million children aged under five suffering stunted growth by the time of the 2016 Olympic Games in Rio de Janeiro, Brazil.
It hopes to use its presidency of the G8 group of wealthy nations, starting next year, to build international support for action to prevent millions of deaths a year due to malnutrition.
'Historic legacy'
Mo Farah, who has set up his own charity to raise money to help victims of severe drought in the Horn of Africa, said action was desperately needed.
"I'm lucky to have set up a new life here, and growing up here after being in Somalia as a little boy. But there are kids out there facing hunger and starvation and we've got to do something about it. There are kids out there who need our help. It really touches my heart."
The UK has pledged £120m for research into drought-resistant crops and said it would urge multi-national companies to play a role in tackling hunger.
Save the Children called for an "unprecedented" political commitment, private and public investment and a massive increase in life-saving programmes
"This summit has fired the starting gun on what could be the biggest-ever push against hunger," said its chief executive Justin Forsyth.
"With the presidency of the G8 next year, David Cameron and the UK government can deliver global leadership on hunger, ensuring a historic legacy for the world's poorest children from London's golden games."
'Hard truth'
Sunday's summit was attended by senior politicians from Brazil, Kenya, Bangladesh, India and the Republic of Ireland.
Mr Cameron said the UK and other nations had a responsibility to tackle the issue.
"While people around the planet have been enjoying and competing in these Games, there's another world where children don't have enough to eat, and never get the start in life they deserve. It is a tragedy for them, and it's a tragedy for their societies they live in.
"The hard truth is that while we've made huge strides in the last decade on things like education, malnutrition rates have stagnated. I'm determined that Britain helps change this."
Ahead of Sunday's meeting, a group of athletes - including British medallists Louis Smith from gymnastics and Gemma Gibbons from judo - wrote an open letter to Mr Cameron urging action.
It said: "With world leaders gathered in London and the eyes of billions focused on Britain, the Olympics is an incredible opportunity to change the destiny of millions of children round the world.
"The eyes of the world are on London 2012. The best legacy the Games can leave is a world where strong, healthy and well-nourished children can achieve their full potential in life."