Olympic Games: Lord Coe made legacy ambassador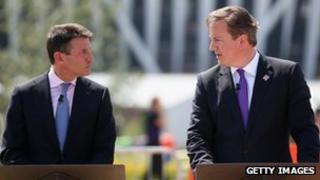 Lord Coe is to be the UK's Olympics legacy ambassador, Prime Minister David Cameron has announced.
Mr Cameron said the Games had "lifted the whole country" and Lord Coe had been its "head and heart".
Lord Coe said he was "very happy" to drive the legacy forward but it was not a "one- man mission" and the "whole nation" had to support its values.
The former middle distance athlete, who won Olympic gold in 1980 and 1984, has chaired Games organiser Locog.
That position came after Lord Coe - a Conservative MP from 1992 to 1997 - had led the successful bid for London to host the Games.
He will now advise Mr Cameron on the best ways to secure long-term benefits for the UK.
Lord Coe will also act as a roving ambassador to help secure deals for British firms.
Downing Street said he would also be tasked with ensuring efforts to boost sporting, volunteering and regeneration effects were also kept on track.
The prime minister said Lord Coe had "done a brilliant job delivering the best Games ever", adding: "Now I want him to help me deliver the best Olympic legacy ever."
Mr Cameron told the BBC there was a "huge opportunity" to build the legacy for the Games.
He said the Olympics had been a "massive self-confidence boost" about "who we are as a country and what we stand for".
The prime minister announced that government funding for Britain's Olympic sports will be extended until the Rio Olympics in 2016.
UK Sport, the body that distributes money to Olympic and Paralympic sports, will receive £125m per year.
The government had previously announced that the estimated £40m that comes from the Exchequer for that funding would only be guaranteed until the end of 2014.
When asked about his new role, Lord Coe said: "I'm very, very happy to play a part in helping drive some of the legacy values forward, both economically, socially, sporting and clearly in sport. That's everything that we believe in.
"But, this is not a one-man mission. The whole nation has to get behind the legacy values here because this is a once-in-a-lifetime opportunity."
Lord Coe, looking ahead to the Paralympics, also told the BBC organisers were "only halfway through".
"We want to deliver the best Paralympic Games ever," he said.
Speaking at a news conference, he said he had never worked with such "focused, passionate people" as those involved in organising the Games and gave them his thanks.
Again referring to the Paralympics, he said his team were "close to exhaustion" but would rally for the "second half" of events.