London 2012: Paralympic ticket sellout goal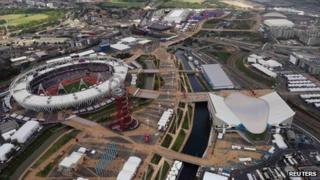 The International Paralympic Committee is hopeful London 2012 will be the first sellout in the Games' 52-year history.
With the Games 16 days away, more than 2.1 million of 2.5 million tickets have been sold - 600,000 in the past month.
Athletics events in the Stadium, cycling at the Velodrome and wheelchair tennis have largely sold out.
But organisers are reviewing venues to see where more tickets can be made available for the most popular events.
There have been 15 summer Paralympic Games since the first in Rome in 1960 and most have seen large numbers of seats given away.
Athens sold 850,000 Paralympic tickets in 2004, Sydney sold 1.2 million in 2000 and, while Beijing sold 1.8 million in 2008, it had to give away the same number to fill the city's venues.
Coldplay close
IPC president Sir Philip Craven said: "Our aim now is to sell every single ticket. It would be fitting that when the Paralympic Movement returns to its spiritual birthplace in three weeks' time it does so in front of packed sold-out venues."
Awareness of the Paralympics was at a record high, said IPC head of media Craig Spence.
Traffic to the paralympic.org website has increased by 200%, Twitter followers of the global governing body of the Paralympic movement grew by 25% during the three hours of Sunday's Olympic closing ceremony and #paralympics was trending worldwide overnight, he added.
"We've already beaten Beijing by 300,000 seats, which is a phenomenal achievement and shows the insatiable hunger in Britain for elite sport," Mr Spence told the BBC.
Mayor of London Boris Johnson said Olympics spectators had been enraptured by the sights of the Park, and the best way to share in that feeling was to buy tickets for the Paralympics.
"If demand exceeds supply we will make sure Paralympic park tickets are made available as well," Mr Johnson told a news conference on Monday.
Remaining Paralympic tickets, starting at £10 (£5 for young people and seniors), are available from the London 2012 tickets website, and more are set to be released this week.
Tickets ranging from £250 to £500 are still available for the ceremonies, with Coldplay set to play a long segment in the closing show.
Podium finish
The Paralympics run from 29 August until 9 September and will be staged largely in the Olympic Park, with sailing events at Weymouth and Portland, rowing at Eton Dorney and road cycling events at Brands Hatch, south of London. Wheelchair tennis matches will be staged at Eton Manor, a stadium inside the Olympic Park, rather than at Wimbledon.
London 2012 chairman Lord Sebastian Coe said that after Sunday's glitzy Olympic closing ceremony, Games venues were already being reconfigured for the Paralympics, adding that people would be amazed by the sports on offer.
"We are only halfway through - our focus now is on the transition to the Paralympics," said Lord Coe.
He said the athletes' village would next week be ready to welcome thousands of Paralympic athletes from around the world, who will include 1,800 wheelchair users.
On Monday morning, events at the ExCeL were still available, with £10 day passes offering spectators a choice of five sports: wheelchair fencing, powerlifting, table tennis, sitting volleyball and boccia - a game similar to bowls.
It is hoped that lesser-known sports such as sitting volleyball, boccia and wheelchair basketball will attract large crowds, and organisers are optimistic more affordable prices will help sell the remaining tickets.
Meanwhile, Dame Tanni Grey-Thompson predicted British Paralympians had a strong chance of coming second in the Games' medal table, although she added that China would be dificult to beat.
Baroness Grey‑Thompson - who won 11 gold medals at five Paralympic Games - told the Today programme that Team GB's record Olympic medal haul had inspired Britain's Paralympic athletes, who now faced "a nervous couple of weeks" before their Games begin.
Paralympic GB athletes will be honoured alongside Team GB's 541 Olympic athletes with a parade through the streets of London on 10 September, beginning from Mansion House and ending at Buckingham Palace.
Although the first Paralympics were held in Rome in 1960, they were inspired by the Stoke Mandeville Games - a sports contest for British World War II veterans with spinal cord injuries that was organised by Dr Ludwig Guttmann of Stoke Mandeville Hospital in 1948.