Where next to see Team GB stars?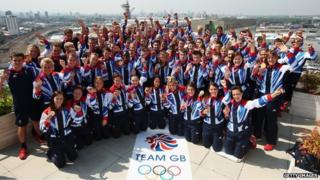 For those wanting a taste of London 2012 action, the Paralympics are just two weeks away, with ticket-sales looking likely to turn London 2012 into the first sellout Games in Paralympic history.
But where can people newly fired-up on Olympic sport go for their next piece of Team GB?
Here are some of the ways you can get involved:
Athletics
If you're after an athletics fix, you won't even have to wait for the Paralympics.
Double gold-medal winner Mo Farah and long jump winner Greg Rutherford will be among the Team GB athletes performing at the Aviva Birmingham Grand Prix on Sunday 26 August.
A 20-event extravaganza, the final major athletics event of the year sees Olympic 5,000m and 10,000m winner Farah competing in the two-mile race, while Rutherford will go head-to-head in the pit against US Olympic triple jump champion Christian Taylor.
High jumper Robbie Grabarz, long jumper Chris Tomlinson, pole vaulter Holly Bleasdale and triple jumper Yamile Aldama are set to compete, with other Team GB athletes being confirmed in the coming days.
International stars taking part include USA's triple Olympic medal winning sprinter Carmelita Jeter, Jamaican 100m Olympics champion Shelly-Ann Fraser-Pryce and American pole vaulting gold medallist Jenn Suhr.
Amid the buzz created by Britain's six athletics medals at London 2012, the Birmingham Alexander Stadium's 12,800 seats have sold out, but the event will be covered on BBC Radio Five Live and BBC television.
Badminton
Badminton at the Olympics made headlines for the wrong reasons when some entrants appeared to engineer their own defeats so as to secure a better draw for the knockout stage.
While none of the four British badminton competitors got past their group stage, elite players including Chris Adcock, Andy Ellis and Jenny Wallwork are set to get their next taste of international competition at next March's All England tournament in Birmingham.
Up-and-coming English players will be in action at the English national championships in Manchester's National Cycling Centre from 1-3 February.
Basketball
At London 2012 Team GB's women basketballers lost their five group games; the men had their first Olympic win since 1948 when they beat China 90-58.
Through their Olympic appearance, the GB Men's Team automatically qualify for next September's European Championships, Eurobasket, along with host nation Slovenia and the European teams from the Olympics and Olympic qualifying tournament.
The GB Women's Team have also qualified for next June's Eurobasket Women, alongside host nation France along and other European teams from the Olympics and Olympic qualifying tournament.
Ahead of the contests the GB teams would be expected to play some friendly games in the UK, but details have yet to be confirmed.
Despite the host-nation status at London 2012, the British governing body had a tough battle convincing organisers to let the teams compete, and qualifying for Rio will be tough.
Gymnastics
A bronze for the men's team and a four-medal Olympic total, with individual contributions from Louis Smith, Max Whitlock and Beth Tweddle, "catapulted the sport forwards", in the words of performance director Tim Jones.
On the men's side, British juniors have won the last three European titles.
The next major gymnastics meeting is the World Cup in Glasgow in December, with those taking part being confirmed from November.
Rowing
Team GB's rowers glided past their six-medal target at London 2012 with four golds, two silvers and three bronzes.
Some of the team might be taking part in the Pairs Head race on the Thames on 13 October, or the Diamond Jubilee Rowing Championships at Eton Dorney on 20-21 October.
Their next international racing will be in 2013 at the series of three world cups, before August's world championships in Chungju, South Korea.
Further details of when the GB rowing team are in action are available on their website.
Table tennis
The atmosphere at the ExCel for table tennis was electric, and Team GB's Paul Drinkhall beat Singapore's Yang Zi in the men's singles to reach the third round.
Paul will be featuring in one of the sport's biggest international tournaments, the Liebherr Men's World Cup, in Liverpool next month.
The line-up will likely include Team GB's Liam Pitchford as well as a number of Olympians - both Olympic finalists Zhang Jike and Wang Hao attended last year's event in Paris.
Before then, there is a European Championships qualifying match between England and Romanian men's and women's teams in Hull on 18 September.
Although the teams have not been confirmed, the men are likely to include Paul Drinkhall, Liam Pitchford, Andrew Baggaley and possibly Darius Knight.
Both Team GB's Joanna Parker and Kelly Sibley are set to be involved for the women.
Details of events featuring other Team GB members will be added to this list as and when they are confirmed.