Newspaper review: Disquiet over 'Great Train Robbery'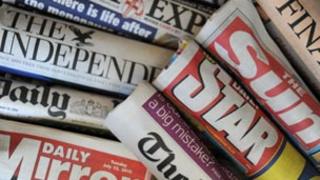 Many of Wednesday's newspapers discard the Olympic afterglow, as their focus shifts to the less sunny subject of rail fare increases for commuters.
The Daily Mail describes the move as the "Great Train Robbery". It puts Ronnie Biggs to shame, the Daily Mirror adds.
For the Times, investment in the rail network is vital, and it must be paid for partly by higher fares, but the scale of the rise is unwarranted.
It's not as if companies are offering a world class service, the Mirror adds.
U-turn call
The Daily Telegraph says commuting costs are, for many people, one of their biggest outlays after housing.
Cranking them up so sharply means their disposable income continues to shrink.
And, the Daily Mail asks, if people can't afford to travel for work, how are they supposed to help drag the country out of recession?
The Guardian warns the coalition is on course for a "bloody nose" from voters in some areas unless there is a U-turn on rail fares policy.
What legacy?
There is some mention of the Olympics, however - this time on the topic of legacy.
The lead story in both the Daily Telegraph and the Guardian is that rules on the minimum outdoor space schools in England must provide for PE have been relaxed. They say this raises concerns about the Games' impact on grassroots sports.
According to the Independent, small businesses have responded furiously to claims by Culture Secretary Jeremy Hunt that the Games were good for tourism.
It says shopkeepers in London describe the Games period as one of their worst.
'Chillax Dave'
Finally, several papers carry pictures of David and Samantha Cameron on the first day of their break in Majorca - but are horrified at the PM's fashion.
The Telegraph says he wore jeans and a long-sleeved navy shirt, but the worst offence was wearing black work shoes.
No doubt they are fine for striding along the corridors of power, the Independent says, but they are less suited to a stroll on the beach.
The Sun says he looked "less than relaxed" while the Mirror tells him: "Chillax Dave, you're on holiday."