Asil Nadir convicted of £29m Polly Peck thefts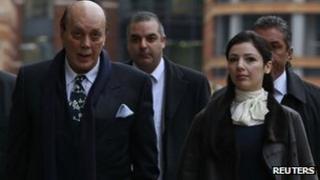 Former tycoon Asil Nadir has been found guilty of 10 charges involving the theft of nearly £29m from his Polly Peck empire more than 20 years ago.
An Old Bailey jury convicted Nadir, 71, after a seven-month trial, of stealing from the former conglomerate and cleared him of three charges.
Polly Peck International, once a major UK company, collapsed in 1990 after a Serious Fraud Office investigation.
Sentencing will take place on Thursday, and his wife said he planned to appeal.
Nadir fled the UK in 1993, while awaiting trial, and remained a fugitive in northern Cyprus until 2010 when he suddenly returned.
The Turkish-controlled territory is not recognised as a state and has no extradition treaty with the UK.
He was remanded in custody by Mr Justice Holroyde on Monday after the first of his convictions, and is understood to have been held at Belmarsh prison in south east London.
In the witness box at his trial he claimed he did not believe he would get a fair trial in the early 1990s but had decided to return to clear his name.
As he was led away on Wednesday his 28-year-old wife, Nur, stood on tiptoes to say goodbye to him in the dock.
Afterwards she said: "A guilty man does not come back to face justice of his own accord.
"My husband came back voluntarily. Polly Peck was his life. He wants justice for himself and for the tens of thousands of shareholders and employees.
"This unhappy affair is certainly not over yet."
Clare Whitaker, from the SFO, welcomed the verdicts and added: "We are pleased that justice has at last been done in this long-running case."
She said the collapse of PPI had been entirely down to Nadir's own behaviour.
Ms Whitaker also confirmed the case had cost the SFO alone £3m so far.
PPI began as a small fashion company but expanded into the food, leisure and electronics industries under Nadir's ownership, growing into a business empire with more than 200 subsidiaries worldwide.
In 1989 PPI bought the fresh fruit giant Del Monte for $875m.
By 1990 it was on the FTSE 100 index and was one of the stock exchange's best performing companies but the share price collapsed after the SFO raided PPI's offices.
It emerged that the SFO case controller, Lorna Harris, had not fully briefed the then Attorney General Sir Nicholas Lyell QC on the issue, and he had inadvertently misled Parliament as a result.
Michael Mates, then a Conservative minister and friend of the businessman, attacked the SFO's handling of the case in an extraordinary speech in the Commons.
Mr Mates, who is now 78, quit his junior minister job in the Northern Ireland Office in 1993 after it emerged he had bought Nadir a watch inscribed: "Don't let the buggers get you down".
Mr Mates, who stepped down as MP for East Hampshire in 2010, was chosen last month as the Conservative candidate in Hampshire for Police and Crime Commissioner.
The jury - reduced to 10 members following illness - returned on Monday after seven days of deliberations with three guilty counts and one acquittal before retiring again and coming back with their remaining verdicts on Wednesday.
Nadir has been convicted of stealing:
£1.3m from PPI to pay for PPI shares in June 1989
£1m from PPI to pay for antiques in December 1989
£3.25m from PPI in March 1990 and placing it in 19 different end destinations
£5.15m from PPI for the purchase of shares to prop up the company in August 1987
£5m from PPI to buy shares in the Gunaydin newspaper group in Turkey in July 1988
£1.3m from PPI to buy shares and help fund his expenses including the purchase of a Leicestershire country estate and farm in November 1988
£2.6m from PPI to pay for shares in travel company Noble Raredon in March 1989
£4m from PPI to invest in his investment trust which held shares in PPI in June 1989
£5m from PPI for various personal uses in August 1990
$500,000 from PPI to buy shares in an educational video company.
The three charges he was found not guilty of involved alleged the theft of around £5m from PPI and included claims he used the money to part fund a Paris photo agency and two planes for his airline Noble Air.
Compensation claim
The court heard Nadir, a British citizen of Turkish-Cypriot background, was a well-respected businessman in Turkey and a major employer in Turkey and northern Cyprus.
The trial heard of a letter Turkish President Turgut Ozal wrote to Margaret Thatcher in September 1990 - two months before she resigned as UK prime minister - asking her to ensure UK authorities acted with "fairness" towards PPI.
At the beginning of the trial the prosecutor Philip Shears QC alleged Nadir had stolen up to £150m from PPI for himself and his family and said the 13 charges he faced were sample charges.
But Mr Justice Holroyde said he could only pass sentence on the 10 counts for which Nadir had been convicted.
Another hearing will be held next month to deal with claims for compensation from PPI creditors and there will be a claim for "substantial" prosecution costs and repayment of legal aid.
Nadir will be expected to provide details of his income and assets.
Meanwhile, the Conservative Party has rejected calls to repay donations received from Nadir's companies more than 20 years ago, saying there is no evidence the money was stolen.
Labour MP Simon Danczuk called on the Tories to pay back around £440,000 but the Tories said: "Donations were received from Polly Peck companies more than 22 years ago; these were accepted in good faith from what was then considered to be a leading British company.
"There is no evidence that money donated to the Conservative Party from the Polly Peck group was stolen."