No quota system for Olympic honours, PM says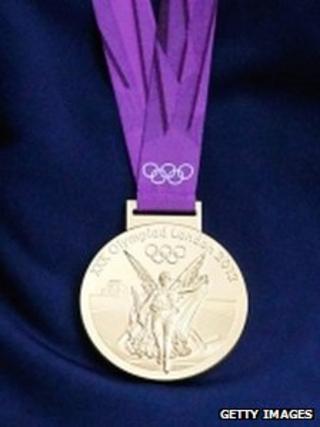 Downing Street has denied the existence of a quota system, limiting the number of Team GB athletes who can receive awards in the New Year Honours list.
The PM's spokesman also refused to say whether rules governing the honours system should be changed.
Speculation that some athletes may miss out was triggered by a senior civil servant, who told the BBC medals would not mean an "automatic gong".
Honours are decided by a committee and not the government.
Earlier, Culture Secretary Jeremy Hunt said he wanted "as many of our successful sportsmen and women to be recognised as possible".
A spokesman for Prime Minister David Cameron said the current policy on honours was set out this year in a paper by the head of the civil service, Sir Bob Kerslake, to the Public Administration Select Committee.
He added: "I am not going to speculate on who or who may not achieve honours.
"There is an independent process. It recommends honours to the Palace on merit. I cannot speculate what may happen next time, which will be the new year's honours list."
In May, Sir Bob, who chairs the main honours committee, told MPs that "given the move away from automaticity in other fields" successful Olympic and Paralympic athletes would no longer be treated as a "special case" when it comes to honours.
The Honours lists are published twice a year at New Year and in mid-June on the date of The Queen's official birthday.
'Sustained effort'
The latest debate was sparked by comments made to the BBC by Jonathan Stephens, permanent secretary of the Department of Culture, Media and Sport (DCMS).
During an interview with The World this Weekend, Mr Stephens said the honours committee would be looking at "sustained effort and contribution", and said a gold medal would not result in an "automatic gong".
"I don't think they [the sporting honours committee] will in any way be undervaluing sporting achievement.
"But they will be looking, like elsewhere in the honours system, to make sure it's not just an automatic gong but really recognises and rewards sustained effort and contribution," Mr Stephens added.
The civil servant also said athletes themselves expressed their "thanks and recognition" to coaches and volunteers who made their achievements possible, and recognised "the efforts of those who have put something back".
Team GB finished London 2012 with 65 medals, 29 gold, 17 silver and 19 bronze, won by 43 different athletes across 29 sports.
Tanni Grey-Thompson - herself an 11 time paralympic gold medallist - sits on the sporting honours committee and told BBC Radio 4 they are limited to the number of gongs they can award.
She said they were able to award "one or two" knighthoods, a "few more" CBEs, "more" OBEs and "up to 45-50 MBEs".
"We'd love to give out honours to everyone, but I think the key is in the title, it is an honour not a reward".
Baroness Grey-Thompson added that they were trying to balance athletic achievement with "perhaps somebody who has volunteered for a number of years".
Culture secretary Jeremy Hunt said honours were "awarded on merit and we've had a year with a lot of merit".
"We've just had our most successful ever sporting year and I want as many of our successful sportsmen and women to be recognised as possible.
"I'm sure that we will have a bumper year," Mr Hunt added.