Profile: Prince Harry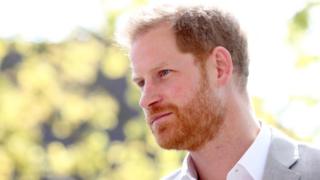 The Duke of Sussex grew up in the media spotlight - from a young royal dealing with his mother's death, through his partying teenage years, to his career in the military.
More recently, Harry has become immersed in his charity work, including working alongside his wife, the Duchess of Sussex.
Now he is about to embark on a new role - as a father.
He has attempted to walk the line between his public and private lives; embracing publicity at times to promote the good causes he supports, but drawing a line when the attention has become too much.
Army and charity
Harry spent 10 years in the armed forces, in which he saw action in Afghanistan twice, including as an Apache helicopter co-pilot and gunner.
His military career came to an end in 2015, shortly after he was pushed down to fifth in line to the throne by the birth of his brother Prince William's second child, Princess Charlotte. He is now sixth in the order of succession, following the birth of Prince Louis, and his child will be seventh.
The prince has said his Army experience will "stay with me for the rest of my life". This is borne out in his charity work, which mostly concentrates on mental health and helping service veterans.
He also jointly founded Sentebale in 2006, a charity to help orphans in Lesotho, Africa, and his charitable work also includes conservation projects in Africa.
The most notable part of Harry's charity work so far has been his founding and chairing of the Invictus Games, a Paralympic-style international competition for injured ex-service personnel.
He launched the sporting event in London in March 2014. The second Games, in May 2016, were held in Orlando and the third, in September 2017, took place in Toronto.
The 2017 Games saw the first public appearance of Harry with US actress Meghan Markle. They were photographed holding hands, fuelling speculation about their relationship.
They went on to marry in May 2018 at a ceremony at St George's Chapel in Windsor.
Harry and Meghan attended the 2018 Invictus Games together in Sydney, during a 16-day tour of Australia.
It was on that tour they announced they were expecting their first baby, saying they were happy to share the "personal joy" of their news.
He has also supported the charity Walking With the Wounded, for injured veterans, and causes first championed by his mother, Princess Diana, including the Halo Trust's work in clearing landmines and helping children affected by HIV and Aids.
During his military career, Harry become the first royal in more than 25 years to serve in a war zone. He was left disappointed in May 2007 when army chiefs decided not to send him to Iraq because of "unacceptable risks".
He then spent 10 weeks serving in Afghanistan in 2008 - but had to pull out amid concerns for his safety after news leaked of his unpublicised deployment.
He returned to Afghanistan as an Apache helicopter pilot from September 2012 to January 2013, before qualifying as an Apache commander in July 2013.
He later described how he had shot at Taliban insurgents, and said that being in Afghanistan was "as normal as it's going to get" for him.
Life in the spotlight
The prince has, in the past, fallen foul of the press, whose attention has been a constant part of his life.
An early upset involved Harry smoking cannabis. St James's Palace confirmed in January 2002 that the then 17-year-old had "experimented with the drug on several occasions" but said the use was not "regular".
Then in October 2004, there was a scuffle with a photographer outside a club.
A royal spokesman said at the time that the 20-year-old prince "was hit in the face by a camera when photographers crowded around him".
"In pushing the camera away, it's understood that a photographer's lip was cut," the spokesman added.
In 2005, there was widespread outrage when an image came to light of the prince at a fancy dress birthday party dressed as a Nazi.
Clarence House later issued a statement saying: "Prince Harry has apologised for any offence or embarrassment he has caused. He realises it was a poor choice of costume."
And in 2009, Harry apologised for using offensive language to describe an Asian member of his Army platoon after video footage of the incident emerged.
St James's Palace said the prince was "extremely sorry for any offence his words might cause" but said he had "used the term without any malice and as a nickname about a highly popular member of his platoon".
Clarence House complained in 2005 that the prince's safety was put at risk when paparazzi followed Harry and his then girlfriend, Chelsy Davy, as they were driven along a dirt track in Botswana.
There was further difficulty for the prince when a former art teacher at Eton claimed she had done some of Harry's A-level coursework - allegations later rejected at a tribunal.
Harry was a constant presence at the London 2012 Games, during which he was an Olympic ambassador.
He was highly visible during the Queen's Jubilee in the same year, and as part of the celebrations completed his first royal solo tour overseas with visits to Belize, the Bahamas, Brazil and Jamaica.
However, photos appeared in August 2012 of the prince and a young woman naked in a Las Vegas hotel room - a reminder of his partying image.
The two photos, first published on US gossip website TMZ, were taken on a private break with friends, with the site reporting the prince was in a group playing "strip billiards".
He later said he had "probably let myself down, I let my family down, I let other people down", but added: "At the end of the day I was in a private area and there should have been a certain amount of privacy that one should expect."
Young life
Born at St Mary's Hospital, Paddington, on 15 September 1984, the prince was christened Henry Charles Albert David by the Archbishop of Canterbury in December of that year in St George's Chapel, Windsor.
But it was officially announced from the start of his life that he would be known as Harry.
The prince followed the educational path of his older brother William, at Wetherby School in Notting Hill, before entering Eton in 1998.
He left the school in 2003 with two A-levels.
Before joining the Army, Harry took a gap year, working on a sheep farm in Australia and with Aids orphans in Lesotho - paving the way for his charity being set up there.
Many people around the world will find it hard to forget the image of him as a 12-year-old at the funeral of Princess Diana, in 1997.
He walked behind the hearse that carried his mother's coffin to Westminster Abbey, accompanied by his brother, father, grandfather and uncle.
Tackling stigma
Harry was best man at his brother William's wedding in April 2011 and has since spoken of how hard it was not to have his late mother there.
In recent years he has had counselling to help him deal with his grief.
In a candid interview with the Daily Telegraph, he described shutting down all of his emotions for nearly 20 years and refusing to thinking about his mother.
This, he said, had a "quite serious effect" on his personal life and his work, and brought him close to a breakdown "on numerous occasions".
He also said he would probably regret "for the rest of his life" how brief his last phone call with his mother was, and spoke of her "fun" parenting. She was a "total kid through and through", he said.
In recent years Harry, William and the Duchess of Cambridge have focused their campaigning efforts on mental health. They founded the Heads Together group, which aims to tackle stigma and fundraise for new support services.
'Beautiful surprise'
As one of the world's most high-profile bachelors, Harry's love life has drawn much interest over the years.
In late 2016, he confirmed a new relationship with Ms Markle, while issuing a statement accusing journalists of harassing her.
He described "nightly legal battles to keep defamatory stories out of papers", attempts by reporters and photographers to get into her home and the "bombardment" of nearly every friend and loved one in her life.
The pair had met on a blind date, organised by a mutual friend. Then after just two dates, they went on holiday together to Botswana.
In September 2017, the year before their wedding, Meghan told Vanity Fair magazine she and Harry were "two people who are really happy and in love".
And in an interview that November, when their engagement was announced, Harry admitted he had never heard of Meghan before his friend introduced them, and was "beautifully surprised". He designed the engagement ring for Meghan, including two diamonds from his mother's jewellery collection.
Now as a married couple, they carry out engagements together, both at home and abroad.
And together, the royal couple have asked for donations to organisations around the world, in lieu of gifts for their new arrival.
Their charity work, and highlighting of causes close to their hearts, will no doubt continue - but for the immediate future, the duke and duchess will be kept busy getting to know their new baby.