Stephen Lawrence: Killers refused leave to appeal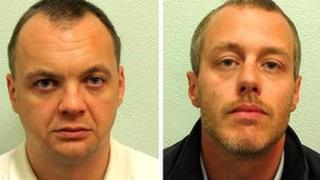 Two men found guilty of the 1993 racist murder of Stephen Lawrence in south-east London have lost the first round of their attempt to challenge their convictions.
Gary Dobson and David Norris were jailed for life in January for murdering the black teenager.
A Court of Appeal judge has refused to grant leave to appeal.
Dobson is serving a minimum of 15 years and two months and David Norris 14 years and three months.
Their applications for permission to appeal were rejected by a single judge who considered the papers from the case.
But Dobson, 36, and Norris, 35, still have the right to renew their applications before a panel of judges sitting at the Court of Appeal.
Sentencing them, the judge, Mr Justice Treacy, had described the crime as a "murder which scarred the conscience of the nation".
The judge said the murder was committed "for no other reason than racial hatred".
"A totally innocent 18-year-old youth on the threshold of a promising life was brutally cut down in the street in front of eyewitnesses by a racist, thuggish gang," he told the pair.
The breakthrough in the investigation followed the introduction of a cold case team of forensic scientists.
The men were the first people convicted over the fatal attack on Mr Lawrence by a group of white youths near a bus stop in Eltham on 22 April 1993 but police inquiries into the killing are continuing.
During their trial, Dobson and Norris denied murdering Mr Lawrence and said their clothing had been contaminated as police mixed up evidence over the years.
Detectives spent months establishing the movements and handling of the exhibits since 1993, and the jury was told that contamination was implausible.
In January it was reported that Norris was to appeal on the basis that the use in evidence of a surveillance video was unfair.
It was not clear what Dobson's grounds for appeal were.