Green belt development 'not path to economic growth'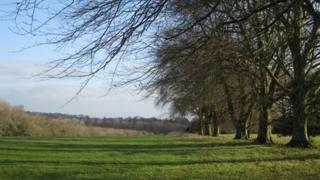 Building on green belt land "is not the path to lasting economic prosperity", countryside campaigners have warned the government.
The Campaign to Protect Rural England has claimed countryside around English towns and cities is threatened by bids to build about 81,000 homes.
Recent changes to the planning system have prompted concerns that protection for the green belt will be weakened.
A government spokesman said it was committed to protecting green spaces.
The CPRE has suggested that current proposals, which are either out for consultation, submitted for planning permission or have been approved, would cover an area of unspoilt countryside the size of Slough in Berkshire.
These plans include the expansion of Birmingham Airport, proposals for three freight terminals, an open cast coal mine in Nottinghamshire and a hotel and golf course in Surrey.
'False promise'
The campaign group added that about 1,000 hectares (2,500 acres) of land was earmarked for business parks and housing developments.
CPRE senior planning officer Paul Miner said the government should look to regenerate urban areas rather than build on unspoilt green space.
"It [the green belt] helps regenerate our cities and stops them sprawling into rural areas. As a result no-one is ever too far from true, green English countryside.
"In times of economic slowdown, politicians can sometimes be tempted by the false promise of an easy construction boom. But destroying the countryside is not the path to lasting economic prosperity."
Mr Miner said that "sustainable economic improvement" was only possible by "the sort of urban regeneration that has already done much to rejuvenate many of our largest cities."
"Ministers have consistently maintained that they value the green belt and want to see it protected. Now is the time to put these words into action," he added.
In March 2012, the Department for Communities and Local Government (DCLG) published a new planning framework which included a section ensuring green belt land is protected.
A draft version of the framework was amended to encourage greater development of brownfield sites, following pressure from the CPRE and other countryside campaign groups.
'Green lung'
Ministers said the policy, along with the Localism Act, gave communities a greater say on planning and scrapped "top-down targets".
However, the CPRE warned that the document puts pressure on local authorities to allow building in the green belt to meet housing and expansion targets.
A DCLG spokesman said: "The green belt is an important protection against urban sprawl, providing a 'green lung' around towns and cities.
"The coalition agreement commits the government to safeguarding green belt and other environmental designations, which they have been in the new National Planning Policy Framework.
"The Localism Act allows for the abolition of Regional Spatial Strategies which sought to bulldoze the green belt around 30 towns and cities across the country."