Afghans 'untrustworthy' - dead soldier's mother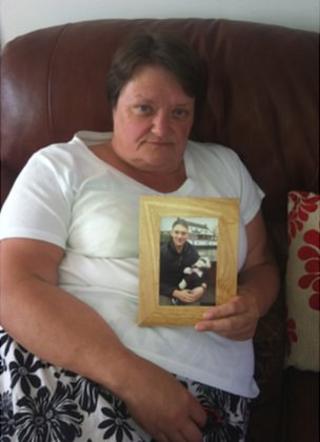 The mother of a British serviceman who was killed in a so-called green on blue attack has warned the government there will be many more such atrocities. She told the PM programme's Sima Kotecha the Afghan National Security Forces (ANSF) was untrustworthy and corrupt.
Sarah McCarthy led me straight through her living room and into the brightly-lit conservatory at her family home in Telford.
There was barely room to stand. On the chairs lay boxes, brimming with sheets of paper and sympathy cards. Items of clothing were slung over door handles and, on the floor tucked underneath the sofa, were a couple of pairs of shoes. "These are mostly Brent's things," she told me, her voice quivering and her face reddening.
Just outside the room, a pine tea table, with a prettily framed picture of her son in full uniform. The RAF policeman may have passed away but, in this house, his memory is very much alive.
Cpl Brent McCarthy and his comrade, L/Cpl Lee Davies, were shot dead by Afghan police in May as they manned a patrol base in the Lashkar Gah area of Helmand Province.
Her comments come after a rapid succession of such attacks, termed green on blue in line with colour-coding systems used by the US military, in recent weeks on Nato forces, with 15 foreign troops killed this month alone.
Since the war started in 2001, 16 British servicemen have been killed in similar attacks, when Afghan soldiers or police have opened fire on them. The killings have raised concerns about the ANSF's capabilities as they are being trained to take over full security operations from 2014.
While hurriedly sifting through a cache of pictures, Sarah said of her son: "He just loved life, his sense of humour, always had a smile on his face, and was just so brave. That was Brent down to a tee."
But, just days before the 25-year-old - who was working closely with the local police in a training capacity - was killed, he spent an hour on the phone to his mother, expressing his concern about his Afghan counterparts.
"He got quite frustrated in some ways because they were laid back, horizontal was another word," she told me. "And they were lazy and unmotivated, and very difficult to get things going. I've actually spoken to some of his colleagues who are doing the same role and they've said the same."
She said Brent had painted a vivid picture of a police force that was doing the job for the money and not out of a desire to protect its people. He talked about their drug habits and one incident when Brent confiscated a bag of powder thought to have been an illegal substance and handed it to the Afghan authorities.
"These drugs, he gave them back to the Afghan police and when they got back from patrol the next day, he asked the Afghan police if he could have them back to label them and document them and it had virtually all gone," Sarah explained.
"He witnessed them smoking drugs and also their siblings smoking drugs while in control of a base."
Brent's anecdotes have shaped his mother's views on the Afghan conflict. She used to be an ebullient military wife - her husband served more than 20 years in the army - but she now believes the lack of trust between the Afghans and Nato undermines the overall mission. And she is convinced there will be further green on blue attacks as fewer British soldiers remain on the ground.
"I think it's wrong. I don't think we should be there. There could be up to 30 to 300 people in a patrol base of Afghans and these people are turning on our soldiers, they just don't stand a chance.
"It doesn't matter what they do and how they protect them, they just don't. It's unfair to put people through this situation."
Forty-five foreign troops have been killed in green on blue attacks this year alone, more than the total number of those who died in similar incidents in 2011.
The Ministry of Defence says this kind of attack involves "only isolated rogue elements" and the overwhelming majority of Afghan forces demonstrate a strong commitment to their partnership with foreign troops. But it is publicly reluctant to acknowledge that insider attacks are a growing problem, even though the number of them has risen in recent years.
There has been criticism of the ways in which Afghan recruits are vetted. But the Afghan government insists it is improving its security screening to reduce the number of attacks by conducting more rigorous drug testing and obtaining references from senior members of the local community.
Nato now designates what it calls "Guardian Angels" to watch over its troops while they sleep, work, and eat. According to Sarah McCarthy, that system does not work because Brent was the Guardian Angel for his section of men on the day he was killed.
She says her son's death would not be in vain if future attacks could be prevented. But she fears more tragedies are inevitable.
"They are clever, they will change their tactics, they'll find different ways so watch this space," she said.
Listen to the full interview on PM at 1700 BST on BBC Radio 4 on Thursday 30 August.