Newspaper review: Ready for Britain's 'new heroes'?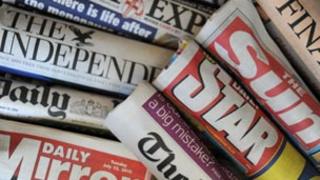 Wednesday's papers gear up for the "greatest show on Earth, part two", ahead of the opening ceremony to mark the start of the London Paralympics.
The Daily Express expects the country to "go Games crazy all over again".
Those who found the Olympics inspiring, should, says the Daily Mail, "Get ready for Britain's new heroes."
But cyclist Sarah Storey makes a plea to Daily Telegraph readers: "Don't call us brave. We are doing what we do because we love sport."
'Cream of warriors'
James Lawton of the Independent fears that crowds who seek an "easy reproduction" of the flag-waving euphoria of the Olympics will be missing the point.
He argues that "the wonder of the Paralympics is that they are about sport in the truest and deepest way".
And Melanie Reid of the Times, who broke her neck and back in a horse-riding accident, calls for an end of talk about heroes and inspiration.
The athletes, she says, are "the cream of warriors from a very select tribe".
'Lacks stomach'
Several newspapers ponder the question posed by Tory MP Tim Yeo to David Cameron: "Are you a man or a mouse?"
The Mail wants to widen its scope of the question from Heathrow expansion to scrapping quangos and the Human Rights Act, repatriating powers from Europe and slashing public spending.
And the paper thinks the prime minister gives "the impression he lacks the stomach to fight for Tory beliefs".
Michael Deacon, in the Telegraph, thinks it is a challenge Mr Cameron cannot win.
'Financially sexy'
The prime minister looks weak if he does a U-turn but weak if he caves to backbench pressure, he writes.
He concludes that the prime minister is bound to end up looking "both man and mouse, like some radical laboratory experiment gone hideously wrong".
Simon Jenkins, in the Guardian, tells Mr Cameron to "show himself a man, not a mouse" by resisting calls for "big, brash and financially sexy" projects.
He says "a recession is no excuse for collapsing environmental standards or pushing through dumb projects".