Paralympic Games get under way in London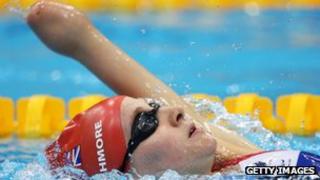 The Paralympics has got under way following Wednesday's night spectacular opening ceremony with the GB team aiming to win a record 103 medals.
Cyclist Sarah Storey could win the eighth Paralympic gold of her career later and Darren Kenny will be hoping to add to his own haul of six golds.
More than 4,000 athletes from 164 countries are taking part.
But US swimmer Victoria Arlen faces expulsion as officials reassess her level of impairment.
There are 28 golds on offer on Thursday in cycling, judo, powerlifting, shooting and swimming.
The Queen declared the London 2012 Paralympics officially open on Wednesday, during a spectacular opening ceremony watched by 80,000 spectators.
More than 11 million people watched it on television, Channel 4's biggest audience in a decade and four times the number that watched the opening of the Beijing Paralympics in 2008.
Wheelchair basketball, shooting, swimming and track cycling are among the events set to feature on the opening day.
BBC Sport's Saj Chowdhury at the ExCel said: "This vast airport terminal of a building, which lay hushed for a little more than two weeks is alive again the sound of sport, cheers and popular music. The Paralympics is in town."
Following the success of the Olympics, 2.4 million tickets have been sold and it could be the first Paralympics to sell out.
'Achievement'
Craig Spence, from the International Paralympic Committee, is looking forward to the Games: "The men's 100m will, I think, be the race of the championships.
"Jonnie Peacock broke the world record earlier this year, beating Oscar Pistorius. But I think anyone in that race could win it and it could be the first time in history that all eight men go under 11 seconds which would be quite an achievement."
The Paralympics includes a number of inventive games, including goalball, which is played with a heavy ball that has bells inside it and the teams are blindfolded to level the playing field.
Great Britain's team is in action later, including teenage brothers Adam and David Knott, who were born with a condition that means they have only 10% of the vision of a normally sighted person.
Britain's first Paralympic Games gold medallist, Margaret Maughan, 84, had the honour of lighting the cauldron.
'Be inspired'
Paralympics chief Lord Coe told the crowd: "Prepare to be inspired, prepare to be dazzled, prepare to be moved."
The opening ceremony, co-directed by Jenny Sealey and Bradley Hemmings, signalled the start of 11 days of competition by 4,200 athletes from 164 countries, including more than 300 athletes from the home nation.
Eight members of the British under-22 wheelchair basketball team were given the honour of carrying the Paralympic flag into the stadium. It was raised by members of the armed forces, before the Queen declared the Games open.