Trafalgar Square hosts have-a-go Paralympic sports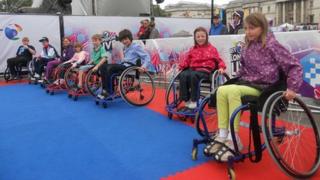 Under the stony one-eyed gaze of Admiral Nelson, one of the nation's best-known disabled figures, young people take their turn at Paralympic sports.
Cautiously, they move around in wheelchairs on a makeshift basketball court, discovering that the skills being displayed seven miles to the east on the Olympic Park are not easily learned - and sometimes come only after a lifetime on four wheels.
Trafalagar Square is playing host to "come-and-try" sessions throughout the Paralympic Games.
There's also a big screen where action from Stratford and beyond can be watched and performances compared.
Londoners and visitors alike are using it as an opportunity to come together once again after the Olympic Games.
Joseph Afrane, 49, from London, dressed up in his finest Union flag attire.
"It's good to support Britain and the disabled and boost the Paralympic success," he said.
Mr Afrane described himself as "extremely patriotic in 2012", having already dressed up for The Queen's Diamond Jubilee, Euro 2012 and the Olympic Games.
"I like to get involved," he said.
"I couldn't get to the Olympic Park but I wanted to wave my flag to support the Games.
"I watched the torch relay at Tower Bridge and then came here to Trafalgar Square to watch the opening ceremony."
Parents in Trafalgar Square on day one said they wanted their children to get a sense of what was involved in the Paralympic Games.
Susan Wardlaw, 33, from Lewisham, took her two children, James and six-year-old Amelia.
"We wanted to see events but couldn't get tickets so we thought we'd come down and soak up some atmosphere.
"We went to an event in Hyde Park, where there was more to do but it was crowded and expensive.
"It's a brilliant idea for people who couldn't get tickets."
For 12-year-old James it was a chance to take part in wheelchair basketball.
"I wish it was rugby as I play for school but this is better to see what basketball is like," he said.
Strong arms
Alex Harvey, 13, from Cheam, Surrey, also had a go.
"It was brilliant. It was like squatting. You have to have strong arms," he said.
"When I was by the net I got an idea of what it felt like to be disabled."
Charis Miles, 12, also played basketball with Alex and said it was hard work.
"It was really hard at first and my arms really hurt at the end," she said.
At the other end of Trafalgar Square spectators also got the chance to play table tennis.
Jane Jackson, 40, from Hove, took her son Ollie, five, for a day trip to London and stumbled upon the event.
"It's great. We went to the Hyde Park event but it's nice to come central and it's a bit smaller.
"It's good to get a bit of atmosphere. They loved the Olympics and have been trying to recreate the sports."
She said her son had even been having dreams about having prosthetic limbs.
"He has asked about it - they don't carry the prejudices which adults sometimes have. Ollie loves the swimming and thinks the athletes are amazing.
"Sometimes it's hard for them to identify with super-fit Olympians, whereas they may be able to with the Paralympians."
The BT London Live event is a free and runs from 11:00 BST until 22:00 BST until 9 September. Entry each day is on a first-come, first-served basis and is subject to capacity.
The first day included songs from Denise Leigh, fresh from her appearance at the Paralympic Opening Ceremony.
Each evening there will also be performances from artists such as The Beat, Geno Washington and the Ram Jam Band.