Thalidomide survivor Mandy Masters on life without arms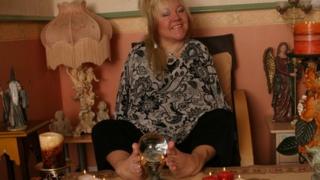 "I was born without arms, but I've always wanted to be normal, and my parents always wanted me to be normal."
Mandy Masters does not have those limbs as a result of her mother taking thalidomide.
Because of this, she has had to learn how to use her feet to do that which most people do with their hands.
"My mother used to make me do things for myself as a child, like put my own clothes on, but what I didn't know is that she'd go away and cry afterwards.
"She fought for me to go to a normal school and I remember that at first the teachers didn't want me to eat my lunch at a bench with the other children, so they made me sit by myself on a window ledge."
Aching limbs
When she finally left school, Mandy worked for a couple of years as a beautician, applying hair and makeup with her feet. She would give demonstrations to groups of women, schoolchildren and disabled groups.
"The first time I ever cut a person's hair, I practised on a blind woman. I applied her makeup and cut her hair and she didn't know I was doing it with my feet. Afterwards she said she couldn't tell the difference from someone using their hands."
Mandy, who lives in Essex, has been married to Wayne for 30 years. The couple are both 50 and have two daughters and six grandsons.
She says that when she met her husband, she "did everything" for herself but is now concerned about the future, as her legs are beginning to cause her significant pain.
"I had a fall seven years ago on some ice and since then my right leg has hurt a lot. Wayne is having to do more for me now, and he's getting older so I'm worried about what we'll do in future.
"It might sound silly but I'm worried about not being able to put my makeup on myself. Some days my legs aren't flexible enough. Sometimes I feel really good, and some days I feel awful. I am worried about the future."
She dreads a life in a wheelchair, a fate which befalls some thalidomide survivors.
"I can hardly walk now, and I know I'm going to be in a wheelchair when I'm older. I hate to think about it."
Suicidal thoughts
For the past 19 years Mandy has worked as a medium, appearing at shows across the UK and also giving phone readings to people around the world. She also writes a magazine column on the subject.
Despite a successful career and family life, Mandy was still hit with a severe bout of depression three years ago, during which she felt unable to carry on living.
"I just woke up one day and thought, 'Oh my God, I'm disabled. I don't have any arms'. I didn't want to live any more, I'd had enough.
"At one point I told my mum to get me sectioned because I thought I might take pills and do away with myself. When I look back on this now, I'm angry with me for putting my family through that."
German-based Gruenenthal, which manufactured thalidomide, has issued its first apology over the drug in 50 years, but said its possible side-effects "could not be detected" before it was marketed.
That apology, however, has not impressed Mandy.
"I really would like to meet Gruenenthal and ask them to tie their hands behind their back for an hour, to see how they get on. They wouldn't be able to do it."
And while Mandy is proud of her "six handsome grandsons" her disability means that some simple pleasures, which most take for granted, are to be forever denied to her.
"My nine-month old grandson puts his arms out for me to take him. But I can't, because I don't have any arms. What must he think?"