Newspaper review: PM's 'fightback' and reshuffle pondered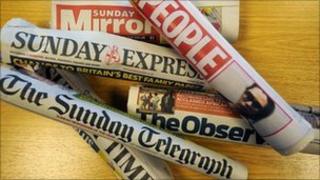 "Cameron roars back: I'm no mouse" is the headline in the Daily Mail.
This a reference to the challenge by Conservative MP Tim Yeo to prove if Mr Cameron was "a man or a mouse" over his refusal to back Heathrow expansion.
The paper says the prime minister's new combative streak is a clear attempt to regain the initiative as he embarks on his first major cabinet reshuffle.
But the Sunday Times says the reshuffle is threatening to unravel as ministers make it clear they will not move.
Economic strategy
They include party chairman Baroness Warsi and Justice Secretary Ken Clarke.
According to the paper, allies of Business Secretary Vince Cable have made it clear he would refuse to move unless he was made chancellor.
The economic strategy of the present Chancellor, George Osborne, comes under attack in an interview with senior Tory MP David Davis in the Sunday Telegraph.
He calls for an "alternative", pro-growth policy with radical cuts to tax, regulation and public spending.
Loan sharks
The Observer's main story is a call by Archbishop Desmond Tutu for Tony Blair and George Bush to stand trial in The Hague over the Iraq War.
He suggests the war created the backdrop for the violence in Syria and a possible wider conflict with Iran.
A Sunday Mirror investigation has found that hospitals are seeing an epidemic of injuries inflicted by loan sharks.
The paper says thousands of people a year are turning up in casualty because debt collectors are using violence.
Golden age
Ellie Simmonds is on most front pages - and her swimming gold medal is the main story for the Sunday Express.
The Independent on Sunday describes her as the Queen of the Paralympic Games.
The papers bid Max Bygraves a fond farewell - the Sunday Telegraph mourns the loss of what it calls yet another link to the golden age of variety.
For the Observer, his death marks the end of the music hall era. The Sunday Express says the entertainer felt like one of the family to a generation.