London Paralympics: Pampering at the Athletes' Village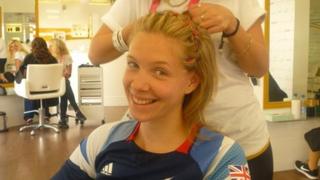 The first beauty salon specifically designed for Olympic athletes was partly responsible for the craze of flag-themed nail art during the Games last month. Now its managers say Paralympians are queuing up for coloured hair, braids and facepaints. The BBC's Maddy Savage booked an appointment.
ParalympicsGB sprint athlete Bethany Woodward, 19, is grinning from ear-to-ear as her red and blue hairband-style braid is given a final squirt of hairspray. She needs it to stay in place as she goes for gold in the 200m T7 category for athletes with cerebral palsy later this week as well as the 4 x 100m relay.
"I think it could have an impact on how I race because I'll feel good. I'll go out there and I'll know I look hot and that will make me run faster!" she says.
The salon has had more than 3500 bookings since the start of the Paralympics, with athletes' parents, coaches and team officials also making the most of the treatments on offer.
The sinks were designed for wheelchair users and staff have cleared extra floor space since the venue was last used during the Olympics.
Snap happy stars
"We are focusing on hair now because of course there are a lot of Paralympians who are missing arms and legs and so they can't get their nails done in flag colours like many athletes did during the Olympics," says Kathryn Davies who is managing the salon.
"For many of the athletes, their hair is their pride and joy. They want it to absolutely shine and look glorious and that is what we are trying to do here."
She says that Paralympians have already taken more pictures in the salon's self-service photo booth than customers did during the entire Olympic games, with 7000 snaps printed by day five.
But isn't all this focus on image contradicting the positive messages that many athletes have been putting forward this week? Don't the Paralympics prove that it doesn't matter what you look like?
"In a way we don't want people to focus on our disability, we want people to see us as normal girls," responds Anna Johannes, 19, who is a left-arm amputee and competes on the US swimming team.
"But on the other hand I still want to show my pride for my country, whether that's through cool hair, cool nails, or just swimming fast. I'm not trying to appear glamorous or anything like that though," she adds.
Also in the salon is Amanda Fowler who is amongst the intellectually impaired athletes competing on Australia's swimming team. It is the first time her category has been allowed in the games since her country hosted the Paralympics in 2000.
She has had her hair cut shorter and is now waiting patiently as yellow and green ribbons are threaded into two small braids on the side of her head.
"With swimming, the lighter and the shorter your hair then the faster you go through the water, so I am hoping my hair cut will improve my performance," she explains.
It isn't just female athletes who have been queuing up for appointments. On Monday the salon welcomed male competitors from countries including Egypt, Mongolia, Russia and South Africa.
Paralympics GB athlete Ben Jesson, 24, was having a trim ahead of his campaign to compete in the 10m air rifle final in the SH1 category which begins on Tuesday morning.
"The focus should be on the sport not our image, but this is part of my last-minute preparations to make sure I am ready for the cameras. I guess I am here to make sure I feel happy with myself and I am ready to go out and face the crowds."
The salon also styled his ParalympicsGB 7-a-side football team mate George Fletcher who requested a union flag painted on his face for the opening ceremony and regularly pops back to chat to staff.
But salon stylist Lara Zee says it is the wheelchair basketball and wheelchair rugby players who have been her favourite clients during the games.
"I have loved the doing all the shaves for the boys!" she laughs.
"We had Ukraine's swimmers in too and we were doing mohawks and shark fins on them!"
Global gossip
So how does the amount of gossip shared here compare with other hair salons around the world?
"I was just talking to my client about what's going on inside the village!" smiled Lorraine Bailey who has been in charge of much of the braid art during the games.
Her customer didn't want to be named but said she had her eye on a "cute guy" from a rival swimming team.
Paralympics GB T35 sprinter Sophia Warner, 38, who was in the salon for a manicure commented: "I am very happily married. But there are thousands of athletes here who aren't, mainly aged between about 17 and 23. And that is all you need to know!"