Newspaper review: Split verdict on Cameron's new-look cabinet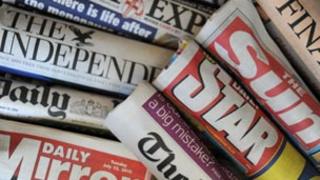 Wednesday's newspapers pick over the finer detail of Prime Minister David Cameron's wide-ranging cabinet changes.
There is widespread agreement among the papers that, as the Daily Mail and the Guardian put it, Mr Cameron has taken "a turn to the right".
According to the Daily Telegraph, his reshuffle is intended to tip the balance of the coalition towards traditional Conservative values.
The Independent believes he bolstered his own position with his rebellious backbenchers.
'Creaking coalition'
The Financial Times talks of a "pro-business" reshuffle that threatens "major new coalition tensions".
The shake-up, it says, heralds a tough new approach to growth, ripping up old green policies and putting a new focus on big schemes and cutting red tape.
But the Times says it was not especially bold - no great coherence or mission emerged and no clear message about government priorities was sent.
The Sun says the revamp was "designed to rejuvenate the creaking coalition".
'Prime Squeaker'
"The prime minister has shuffled the deck-chairs," the newspaper says. "Now he has two-and-a-half years left to make his mark or sink."
Polishing the government's image will not win an election, it says - only economic recovery can do that.
The Daily Mirror calls Mr Cameron "spineless" for failing to axe the Chancellor George Osborne.
It describes Mr Cameron as the "Prime Squeaker" and says he has proved that he is not a man but a mouse.
'Thrilling Murderball'
Meanwhile, there is much anticipation for an event at the Paralympics which the Daily Mail advises the squeamish not to watch.
It calls wheelchair rugby the "most thrilling and violent" of all events - a game known to those brave or foolish enough to play it as "murderball".
Prince Harry is firmly back in the news, with several papers showing him posing for pictures with female members of Britain's Paralympic swimming team.
He was "the star attraction at another pool party", says the Daily Express.