Steve Williams chosen as new Police Federation chairman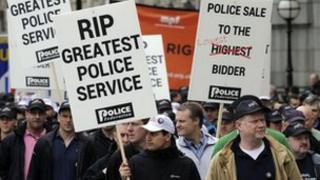 A hostage negotiator has been elected as the new chairman of the Police Federation for England and Wales, representing rank-and-file officers.
Inspector Steve Williams will take over from Paul McKeever in January.
Mr McKeever has been a harsh critic of Home Secretary Theresa May who he described as being "on the precipice of destroying" a police service admired throughout the world.
Mr Williams joined the police in 1984 in his native Rhyl, Denbighsire.
He rose to become a detective inspector in 1997 and has trained as a hostage negotiator.
The Police Federation represents 140,000 rank-and-file police officers and earlier this year organised a march to protest at the government's proposed changed to pay and pensions.
Mr Williams pipped Julie Nesbit, who chairs the Constables' Central Committee, for the job.
'Bedrock'
He replaces Mr McKeever, who has been in the job since 2008, and said it felt like a "prestigious honour".
Mr Williams takes up the post two months before elections for Police and Crime Commissioners (PCCs).
The government is introducing PCCs for all 43 police forces in England and Wales, with the exception of the Metropolitan Police, and they will be expected to make police forces more accountable for their actions and policing priorities.
But some critics say they are a waste of money and could undermine the role of chief constables.
In a statement on the Police Federation website he praised Mr McKeever, who he said had "provided extra ordinary dedication, guidance and commitment".
Mr Williams said: "Ahead lies a very difficult and complex journey for policing which will stretch and challenge the service to meet changes unprecedented in our history."
He added: "I want the government to never forget that the office of constable sits at the forefront of British policing and that police officers are the bedrock of providing law and order."
Mr Williams said: "Over the coming months I will learn new things and draw upon experience to set a hard personal agenda which will continue to advance our cause and make our voice heard with respect, credibility and coherence."