Newspaper review: Theories abound over French shootings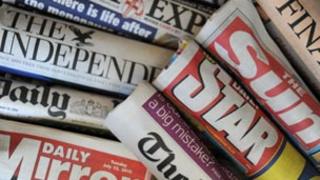 Theories abound in the papers about the motive for the shooting dead of three members of a British family in the French Alps.
The Daily Telegraph says French police are investigating whether a family feud may have led to their murder.
The Daily Express says the father, Saad al-Hilli, had become increasingly concerned for his safety in the days before setting off to France.
The Daily Mail says the security services hold a file on Mr Hilli.
Their neighbours tell the Independent that the family left Iraq after falling out with Saddam Hussein's Ba'ath party.
Forensic experts
The Times is critical of the French police for taking eight hours to discover that another of Mr Hilli's daughters was alive.
She was hidden under her mother's body.
The Sun and the Guardian report that the girl asked for her family as she was finally taken from the scene, "unharmed but paralysed by fear".
The Times says protocol had prevented police from opening the doors of the car where the bodies were found before forensic experts from Paris arrived.
Aid workers
The Independent believes Pakistan risks hurting its own children by ordering a number of foreign charity workers to leave the country.
Pakistani officials have previously linked Save the Children with the CIA trying to trace Osama Bin Laden.
The Times says the country's dwindling community of foreign aid workers feels under siege.
They must also deal with the constant threat of kidnap and murder in some provinces, as well as official suspicion in Islamabad.
Currency test
The financial markets may have welcomed the European Central Bank's latest plan to save the euro but, says the Financial Times, the real test is yet to come.
"Euphoria never lasts," says columnist James Mackintosh.
When fear returns, the ECB's resolve will be tested, he says.
Unlike its 2010 foray into bond markets, this time the ECB will have to spend serious money to prevent "recessions becoming depressions".