France shootings: Police inquiry 'long and complex'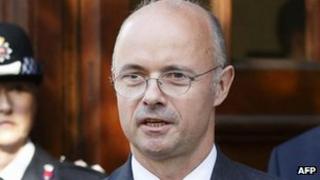 The investigation into the shooting of a British man and his family in France is likely to be "long and complex", a senior French police officer has said.
Colonel Marc de Tarle was speaking outside Surrey Police HQ after his officers searched Saad al-Hilli's home nearby with a British forensics team.
Mr al-Hilli, his wife, a woman thought to be his mother-in-law and a local cyclist were shot twice in the head.
The couple's two daughters survived the attacks and are in hospital in France.
Mr de Tarle said: "We are here within the framework of a request for international mutual help launched by the French judicial authorities towards the British authorities."
"The co-operation is working well and the British police are putting in place all necessary means on a human and a technical level."
Surrey Police assistant chief constable Rob Price said: "Surrey police will do all we can in support of the investigation on behalf of our French colleagues.
"Throughout that support, I want to place the emphasis on the victims of this tragic incident and Surrey police, again with our French colleagues, are ensuring that all those who need support will get the support."
Mr al-Hilli's wife, Iqbal, and a 74-year-old women who held a Swedish passport, were killed during the attack in Chevaline, close to the tourist destination of Lake Annecy on Wednesday.
The fourth victim, the cyclist whose body was found near the car, has been named as a 45-year-old Sylvain Mollier.
Four-year-old Zeena spent eight hours hiding in the car before being found by officers. Police said she was between her mother and the older woman, and hid under her mother's skirt when the shooting started.
Her sister, seven-year-old Zainab, remains in a medically-induced coma in Grenoble University Hospital after being shot in the shoulder and beaten around the head.
Two relatives of the al-Hilli family have gone to France, accompanied by a British social worker and family-liaison officers from Surrey Police, to comfort the two daughters.
Floral tributes
French police have also asked Italian and Swiss counterparts to help them in their hunt.
French prosecutor Eric Maillaud told a news conference at Annecy that the post-mortem examinations were completed on Friday night.
"All four were killed by several bullets and all four were hit twice in the head," he said.
The prosecutor added: "There are 40 French who are working on this matter.... there are a great number of people working on it on the British side... No scenario, no path in fact is closed until you're sure."
Mr Maillaud told reporters Zeena had been interviewed but he did not see a "need" to speak to her again as she "did not see anything". On Friday, he said Zeena had identified her family and described the "fury" and "terror" of the attack to police.
Mr Maillaud, who had previously said 25 shots were fired in total, told reporters officers had discovered more information about the ballistics but the details would not be disclosed publicly.
Earlier media reports said that a possible dispute over money between Mr al-Hilli and his brother, Zaid, is one of the lines of inquiry in the investigation.
But Mr Maillaud said Zaid al-Hilli, who had told UK police there was no dispute over "financial matters", would be interviewed "as a witness" by French officers "just like any other family member".
"Everyone talks about a dispute between the brothers as if it was an established fact. The brother says there was no dispute so let us remain cautious about that," he said.
Flowers have been left at the scene of the shooting and floral tributes from neighbours continued to be placed at the al-Hilli home in Claygate during the day.
Officers from Surrey Police set up a forensic evidence tent in front of the house ahead of the arrival of the French officers.
They spent nearly an hour inside the property and are expected to return later to conduct further searches.