Papers reflect on Paralympics finale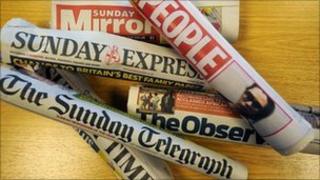 The final day of the London 2012 Paralympics prompts Sunday's papers to reflect on an extraordinary summer of sport and its possible lasting effects.
"Thank you, it's been emotional!" declares the Independent's very red, white and blue front page, that features a mosaic of images of triumphant British Olympians and Paralympians.
"Two sporting extravaganzas, a record-breaking medal haul for Britain, disabled sport showcased as never before … no wonder even the Aussies say it was better than Sydney," the paper adds.
The Sunday Telegraph suggests we will now feel a sense of loss, not only for the prodigious achievements of the athletes, but also for the collective spirit of co-operation and goodwill that the Games generated.
'Restored pride'
During this "summer in a million", says the Observer, the UK has shown a "competence and confidence, a charm and warmth that few of us believed we possessed".
All good things must come to an end, and, in truth, we need to get back to normal, suggests the Sunday Times. But it adds: "The world has seen an attractive vision of Britain that will stand us in good stead for years to come."
The Sunday Express pays tribute to the 70,000 Games volunteers. "Unfailingly cheerful, polite and helpful, [they] not only made the Games a success, but restored pride in some good, old-fashioned British values".
The Sun and Mail on Sunday hope the legacy will be a permanent shift in attitudes towards disabled people.
Ambush theory
The Sunday Mirror reports that French police are examining the possibility that the British family shot near Annecy may have been lured to an ambush by a phone call.
It says police are examining two mobile phones found at the scene.
The brother of Saad al-Hilli has spoken of his anguish at the death of his sibling, the Sunday Telegraph reports.
Zaid al-Hilli, who has denied being involved in a feud with his brother, is reported to be in deep shock.
'Get a grip'
The Sunday Times says Prince Harry has been assigned armed minders to protect him at Camp Bastion.
It is in response to a rise in the number of attacks on Western soldiers by members of the Afghan security forces, it explains.
The Mail on Sunday urges David Cameron to "find his inner Thatcher" to develop a coherent economic strategy.
If he fails to get a grip, he will see Boris Johnson's personality expand to fill the power vacuum, it warns.
Sent for scrap
The new Tory party chairman Grant Shapps has been secretly altering his biography on the website Wikipedia, according to the Observer.
It claims he removed a reference to his time at Watford Grammar School for Boys and a list of political gaffes.
The Sun and Sunday Times report that efforts to preserve the Navy's former flagship, HMS Ark Royal, have failed.
It has been sold for scrap metal for £3m.