Fresh arrests in Operations Tuleta and Elveden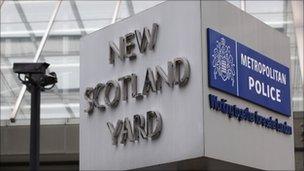 A 31-year-old prison officer has been arrested by police investigating alleged corrupt payments to public officials.
He was arrested in Northampton on suspicion of conspiracy to corrupt and misconduct in a public office.
The man was being questioned at a police station in Northampton.
Meanwhile, officers investigating computer hacking have arrested a man over alleged criminal breaches of privacy.
The arrests are part of Metropolitan Police inquiries into various aspects of hacking.
The prison officer was the 44th person to be arrested as part of Operation Elveden.
He was the second serving prison officer to be arrested as part of the inquiries.
A Prison Service spokeswoman said: "The Prison Service is committed to dealing robustly with all forms of corruption, including the unauthorised disclosure of sensitive information for financial gain.
"We are fully supportive of Operation Elveden currently investigating the potential misconduct of public officials involved in selling information to the press.
"If any prison staff are identified, we will work with the police to facilitate investigations and prosecutions."
Scotland Yard said the arrest of the prison officer came as a result of information passed to police by News Corporation's management standards committee.
The company set up the committee to conduct internal investigations relating to allegations of wrongdoing at its newspapers.
The other arrest on Tuesday was by officers from Operation Tuleta, who are looking into computer hacking and other privacy breaches.
A 28-year-old man was questioned at a south London police station on suspicion of offences under the Theft Act 1968 after attending by appointment. He was bailed until 9 December.
It was the 13th arrest made by the Tuleta inquiry.
A third inquiry - Operation Weeting - has been investigating alleged phone hacking.