Newspaper review: Papers vent anger over Hillsborough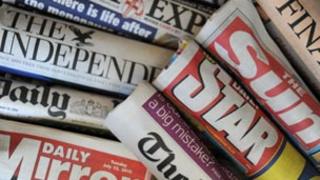 The papers continue to vent their anger over the police cover-up of the Hillsborough disaster, in which 96 Liverpool football fans died in 1989.
The Independent describes the South Yorkshire constabulary at the time as "the force that was above the law".
The Daily Mail says the story of the aftermath of the disaster is one of dishonesty and incompetence on an epic scale.
"Who will be brought to justice?", the Mail asks.
No excuse
The Daily Mirror urges the establishment not to flinch from tracking down and prosecuting those to blame for the Hillsborough tragedy.
The Daily Express says those who failed on live up to their responsibilities on that "dreadful day" should remember there is no excuse for what happened.
The Times says the path has been cleared for a new criminal inquiry.
It comes after South Yorkshire Police said it intended to refer the case to the police complaints watchdog.
Tilt axis
There is concern at the planned merger between defence contractor BAE Systems and European aerospace firm EADS.
There is broad agreement, as the Independent puts it, that on paper it is easy to make the case for a merger.
But the Daily Telegraph says binding the defence industry so tight to Europe risks making a traditional cross-Atlantic defence strategy harder.
The merger would tilt the single company's axis away from the US and towards Europe, the Times adds.
Fridge first
Finally, the Royal Society has come up with the 20 best inventions in food and drink - or what the Times calls the best things since sliced bread.
First - or the "coolest" thing, as the Sun puts it - is the fridge, then pasteurisation, followed by the tin can and in fourth place the oven.
But the Times asks why the kettle does not get a mention.
It is the invention without which no British social occasion would be complete, it points out.