Phone hacking: Couple bailed over 'corrupt payments'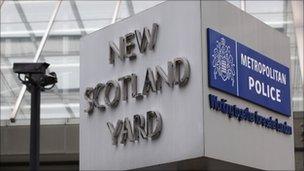 A married couple from Surrey arrested by police investigating alleged corrupt payments have been released on bail.
The member of the armed forces, 42, and his wife, 32, were arrested on Thursday as part of the Met Police's Operation Elveden investigation.
He was held on suspicion of corruption, misconduct in a public office, and conspiracy to commit both offences.
She was held on suspicion of conspiracy to commit corruption and conspiracy to commit misconduct in a public office.
Police said the pair, who were questioned in Surrey, were bailed until March.
She was arrested at her home address in Chertsey, while the man was arrested at an address in Camberley.
Scotland Yard said the arrests were the result of information provided by News Corporation's management standards committee, which was set up in the wake of the phone-hacking scandal.
Operation Elveden is investigating allegations of inappropriate payments to police and public official, and runs alongside Operation Weeting, the probe into phone hacking.
On Saturday, a 43-year-old journalist was arrested by Operation Elveden detectives - their 47th arrest.