Duck rearing conditions 'getting worse' says RSPCA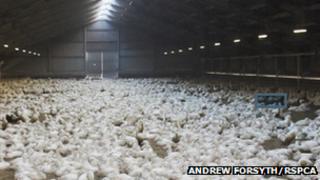 The welfare of ducks raised for meat in the UK is "getting worse", with many not given proper access to water and natural light, the RSPCA has warned.
Only a third of the 14.7 million farmed ducks were reared to RSPCA Freedom Food standards in 2011, the society said.
The society claims the industry's own welfare scheme does not make farmers provide water for the birds to swim in.
But the official British Poultry Council said its rules provide for the health and welfare needs of ducks.
The RSPCA report said standards for duck rearing had declined since 2010, when about half of the 13.4 million farmed ducks were raised to their own Freedom Food standard.
Commercially indoor-reared birds are grown rapidly, reaching the required weight of about 3.5kg within six to seven weeks of hatching.
The birds are typically kept together in flocks of between 6,000 to 13,000. Less than 5% of UK ducks are free range, the study said.
The charity added that there were no legal requirements to provide open water for ducks farmed in barns to bathe in, and no limit on the number of birds that could be put into a building.
'Forgotten farm animal'
It added that farmers were also not obliged to provide straw for bedding or access to natural daylight.
Dr Marc Cooper, from the RSPCA's farm animal science team, said the waterfowl "need bathing water" to stay healthy.
"Bathing is good for ducks' health. It helps keep their eyes, nostrils and feathers clean.
"In the same way that pigs like to root and chickens like to dust bathe, ducks like to have bathing water so they can do all the things ducks naturally do," he said.
The charity have launched the Like a Duck to Water campaign to improve public awareness of duck welfare and are asking shoppers to urge supermarkets to only stock ducks that have been given access to bathing water.
Eloise Shavelar, a campaigner for the RSPCA, said: "Even animal lovers don't realise there are severe welfare problems for farmed duck because it's seen as a luxury product and therefore shoppers don't think it's intensively reared in a similar way to chicken.
"We want shoppers to know the truth about the duck meat they buy and help make life better for Britain's forgotten farm animal," she added.
But the British Poultry Council has criticised the RSPCA's campaign, saying its own "duck assurance scheme" forced farmers to provide water deep enough for the birds to submerge their heads, preen and condition their feathers.
In a statement, the council said: "Duck welfare standards have been upgraded for all ducks in the UK reared under the duck assurance scheme as the duck producing companies have taken on the findings of scientific research.
"Shoppers can be assured that the high standards required by the duck assurance scheme properly provide for the health and welfare needs of ducks reared in the UK," it added.