Paul Beales appears in Indonesia drug smuggling trial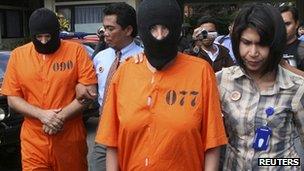 A British man who has appeared in an Indonesian court charged with drug offences faces up to 20 years in prison but not the death penalty.
Paul Beales and three others were held in May by Bali police for allegedly importing 4.8kg cocaine worth £1.6m.
He has been charged with the possession of drugs of less than 1kg and a secondary charge of taking part in the selling of narcotics of more than 5g.
Mr Beales has maintained his innocence since he was arrested in May.
The charge of selling or facilitating the sale of more than 5g of drugs is one that is, potentially, punishable by death.
However, the prosecutor told that BBC Mr Beales was not considered to be the main player in the case, as a result of which he would not face the death penalty.
Mr Beales's next court appearance will be on 24 September. He is being moved to the Kerobokan prison, in Bali.
Indonesia has some of the toughest anti-drugs laws in the world.
The death penalty has been used in the past for drug traffickers, but in recent years it has been applied infrequently.
More than 140 people are on death row in the country, a third of whom are foreigners.
The BBC's Karishma Vaswani, in Indonesia, said it is customary for a trial of this sort to take months before any verdict is expected.
Three other Britons - Julian Ponder, Rachel Dougall and Lindsay Sandiford - are expected to go on trial within weeks.
Mrs Sandiford, 55, originally from Redcar, Teesside, was allegedly caught with the cocaine stuffed inside the lining of a suitcase.
Mrs Sandiford and Mr Ponder face the same charge as Mr Beales, while Ms Dougall has been accused of failing to report the crime of possessing drugs and of drug possession.
Ms Dougall and Mr Ponder are believed to be a couple from Brighton with a young daughter.