Could 'predictive policing' help prevent burglary?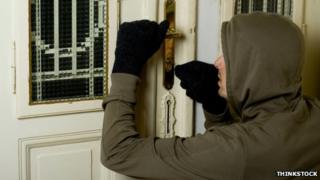 Careful analysis of statistics and criminal behaviour could prevent future crime, argue supporters of a new initiative being tried out in the UK known as "predictive policing".
If a property has been burgled once, it is at very high risk of being burgled again within the next week - as are the houses next door.
Operation Swordfish - a predictive policing scheme launched in the West Midlands - has been designed to identify and interpret these kinds of patterns in order to prevent further crime.
Nearly 30% of the 8,000 burglaries in Birmingham in 2011 were repeat offences, and if predictive policing could stop just half of these, there would be more than 1,000 fewer victims.
Detectives have divided the city into different zones. Half of these zones will see the police applying new methods to deal with burglaries and the other half will be policed using more traditional methods.
Security advice
There are neutral "buffer" zones between each sector from which no data will be taken, in order to avoid any distortions caused by burglars being displaced from one area to another.
The first stage of Operation Swordfish is to visit properties that have been burgled, fit them with additional security equipment and offer advice to residents.
This is called "target hardening". At the same time officers deliver the same equipment and advice to neighbours.
In the first few days of the pilot, nearly all of the break-ins had occurred through open windows.
Nighat Yasmin was asleep upstairs with her husband and three children when the burglars struck. They stole phones, games consoles, her car keys and car.
"Thinking that someone has the audacity to come in and invade your privacy, and have the sheer nerve to take someone else's possessions while they are asleep in the house, it's extremely frightening and really upsetting," said Ms Yasmin.
After target hardening, the next stage of the pilot will test the latest scientific theories.
West Midlands Police are working alongside the Jill Dando Institute of Crime Science, at UCL in London. They have a computer at Stechford Police station in Birmingham where the teams can add data.
Crime hot spots
Prof Shane Johnson who, according to his biography, specialises in "complex systems, patterns of crime, event forecasting, and design against crime", has helped come up with the test, which begins with daily analysis of the latest crime figures.
"We run it through our software and this generates predictions and a map showing the exact locations where crimes are most likely to take place in the next few days," he said. "They can be used by the police to deploy the resources as efficiently as possible."
Many officers are sceptical of predictive policing but Supt Alex Murray, the officer in charge of Operation Swordfish, thinks it could be a vital tool - if used in conjunction with old-fashioned police work.
"I think the majority of our successes will be around hunch, intuition and offender management. But we still need to get out there and try to deter crime taking place in the first place.
"We think probably this is the best way of doing that, but the whole thing with an experiment is you don't know until you analyse it afterwards."
West Midlands Police is in the process of losing 2,000 members of staff as a result of budget cuts, and with the police service nationally having to contend with similar issues, a policy which targets resources more efficiently and is effective, would be invaluable.
The six-month pilot in the West Midlands is most extensive trial of predictive policing to date and is being part-funded by the Home Office.
Previous trials have taken place in the suburbs of Los Angeles in the US, where early results have been promising.