Newspaper review: High marks for GCSE replacement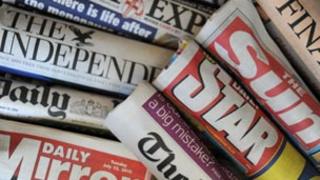 There are generally high marks from Tuesday's papers for the education secretary's plans to replace GCSEs with the English Baccalaureate Certificate.
The Daily Telegraph suggests Michael Gove has "declared the end of more than two decades of 'dumbing down'".
The Financial Times says this "good first step" must be followed by improvements in standards of teaching.
The Guardian fears education has "come through the 90s and noughties only to be sent heading back to the 70s".
'Beyond hope'
"How many more wasted lives?" asks the Daily Mail's front page headline.
Concerning the British campaign in Afghanistan, the paper suggests "the bravest and best of their generation" are being "sacrificed for a cause that seems increasingly beyond hope".
The Times leads on a call for the UK to reveal if it is supplying intelligence for US drone attacks in Pakistan.
A former director of public prosecutions says there is "compelling evidence" of UK help locating targets.
Bloated
Several papers report that Conservative peer and government adviser Lord Ashcroft has urged No 10 to "turn off the golden taps" of foreign aid.
"Nowhere is public spending more out of control," argues the Daily Express, as it hopes to see foreign aid's "bloated budget [cut] down to size".
The Daily Star covers the deal agreed by High Street baker Greggs to supply pasties and sausage rolls to UK troops.
A trial will supply "Our Boys with a taste of home", the paper says.
Bare-breasted
The irony of the Duke and Duchess of Cambridge encountering dozens of bare-breasted dancers in the Solomon Islands is not lost on the papers.
"It was supposed to be the day when they put all thoughts of topless pictures behind them," remarks the Daily Telegraph.
The Sun says "good-humoured Kate" was "cheered up" by the welcome.
Prince William "did his best to discreetly avert his eyes but failed spectacularly", reports the Mail.