Reaction to Manchester policewomen killings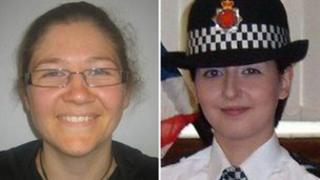 Two unarmed police officers - PC Nicola Hughes, 23, and PC Fiona Bone, 32 - have been killed in a gun and grenade attack in Greater Manchester.
The killings happened after the officers were sent to what appeared to be a routine burglary report at an address in Mottram, Tameside.
Dale Cregan, 29, is under arrest at a police station in connection with the officers' deaths and two previous murders.
The attacks have prompted widespread condemnation and shock, with the killings also reopening a debate over whether police should be armed.
Greater Manchester Police (GMP) Chief Constable, Sir Peter Fahy
"Clearly we are devastated today by the loss of two of our officers. This is one of the darkest days in the history of the Greater Manchester Police, if not for the police service overall, because we have lost two deeply loved and valued colleagues, because they are part of our team - policing is very much a family. But also because of the huge efforts that officers had been making to arrest and detain Dale Cregan. Obviously the officers involved in that inquiry are shattered by this outcome."
GMP Assistant Chief Constable Garry Shewan
"A long and dark shadow has been cast across Greater Manchester and my thoughts are with the officers' family, friends and colleagues. We will be doing everything we can to support them over the coming days and weeks."
Greater Manchester Police
GMP thanked the public for "their many heartfelt messages of condolence" and said plans were under way to make a book of condolence available for people to sign. There is also a website where messages of condolence can be posted.
Prime Minister David Cameron
"What we have seen is an absolutely despicable act, one of pure evil. The cold-blooded murder of two female police officers doing their job out there protecting the public, another reminder of the incredible risks and great work our police service does. My thoughts, and I think the thoughts of the whole country, will be with their families at this impossibly difficult time." Asked later about whether police should be armed more regularly, he said: "There are more armed police officers, there are more armed response units, but this was supposed to be the response to a domestic burglary and that wouldn't normally require armed officers."
President of the Association of Chief Police Officers, Sir Hugh Orde
"The death of two female police officers in Greater Manchester is deeply sad news for the police service. The two unarmed officers were responding to a routine call when faced with a dangerous and deadly situation. Whenever police officers and staff lose a colleague that loss is felt right across the police family. The thoughts of everyone in policing are with colleagues in Greater Manchester Police, family and friends of the two officers, at this time."
Chairman of the Police Federation of England and Wales, Paul McKeever
"This is devastating news and our thoughts and prayers are with their families, friends and colleagues at this extremely difficult time. This tragedy makes us all stop and reflect on the very real dangers police officers face every day serving their local communities. These extremely courageous officers have sadly paid the ultimate price for their selfless actions and no words can express our regret, nor comfort to their families. The entire police service throughout the UK mourn their loss. I know that my colleagues in Greater Manchester Police Federation will be doing everything they can to offer support and counsel to the relatives and colleagues of these brave officers." On arming the police, he said: "It is never a good time to start making a decision like that, when there are emotions running high. They're the sorts of decisions that need to be made more coolly."
President of the Police Superintendents' Association of England and Wales, Derek Barnett
"Today, once again, we have seen how police officers pay the ultimate price in losing their lives to protect the public. Whilst we still don't know the full circumstances, this tragic situation demonstrates the uniqueness of the office of constable, a duty not to walk away from danger. It also serves as a reminder of the risks that officers face on a regular basis. At the beginning of their tour of duty these two officers would have had no idea what lay ahead of them. I'm sure few words will offer true comfort to the families, colleagues and friends at such a difficult time, but our thoughts and prayers are with them."
Eyewitness Warren Shepherd
Mr Shepherd, a window cleaner who works close to the place where the police officers were attacked, said he had heard about 10 gunshots and an explosion. He said everybody in the area was in shock and "could not believe it". He added that "it was like something on the movies. It's just so sad for the family of the two policewomen. Both lost their lives just doing their jobs and my heart goes out to their families and I know people around here will feel the same."
Local resident, Karen Hutchinson, 60, who took flowers to the scene
"I was just so shocked this morning. It is so frightening when this happens on your doorstep. Police officers do a good job. My heart goes out to them. Two police officers losing their life, it's just horrendous."
Scotland Yard Commissioner, Bernard Hogan-Howe
"I am deeply shocked and saddened by the death of two officers in Manchester today in this horrific attack. It is a tragic reminder that officers face the potential for danger on a daily basis. My thoughts are with the families and colleagues of these brave police officers."
Deputy Prime Minister Nick Clegg
"In doing their duty with great courage, to keep our communities safe, they have become victims of an appalling crime. It's a heartbreaking reminder of the bravery our police show each and every day."
Shadow home secretary Yvette Cooper
"This is a painful demonstration of how police officers put themselves in harm's way every day to protect the public."
Labour leader Ed Miliband
Mr Miliband tweeted: "My thoughts and condolences are with the families and friends of two police officers killed today while trying to keep their community safe."
Ash Rathband, whose police officer father David was shot and blinded by gunman Raoul Moat
Mr Rathband tweeted: "It's time for police to be armed in my opinion. Yet again another awful incident."
Mayor of London Boris Johnson
"My thoughts are with the family and friends of Constables Nicola Hughes and Fiona Bone at this dreadful time. Today's incident is a tragic reminder of the dangers police officers face every day in the line of duty, doing their job, keeping the public safe. Nicola and Fiona's bravery was beyond measure. Their murders are shocking and utterly senseless."
Andy Hill, senior lecturer in policing and criminal justice, and former sergeant with Thames Valley Police
"I'm totally against the routine arming of officers. I think we've got fantastically highly trained firearms officers, I mean we can almost name the officers who have lost their lives to firearms in the last 20 to 30 years. It is tragic, it is unforgivable but it's rare, thank goodness."