Roman Abramovich 'could not pull strings' with Putin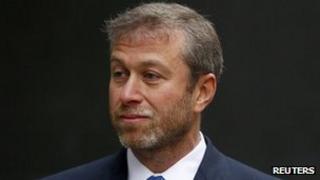 Roman Abramovich had "very good relations" with and "privileged access to" Russian President Vladimir Putin, a high court judge has observed.
But analysing Mr Abramovich's evidence, the judge said he had not been able to "pull the presidential strings".
Mrs Justice Gloster published her ruling after Russian oligarch Boris Berezovsky's claims against Mr Abramovich were dismissed last month.
Mr Berezovsky had argued Mr Abramovich forced him to sell shares.
The judge's thoughts on the Chelsea Football Club owner were outlined in more detail in her ruling published on Wednesday.
"It was clear from the evidence that, at the material times, Mr Abramovich enjoyed very good relations with President Putin and others in power at the Kremlin," said the Mrs Justice Gloster.
"It was also clear that Mr Abramovich had privileged access to President Putin, in the sense that he could arrange meetings and discuss matters with him."
'Courteous and careful'
But she said there Mr Abramovich's influence was limited.
"There was no evidential basis supporting the contention that Mr Abramovich was in a position to manipulate, or otherwise influence, President Putin, or officers in his administration, to exercise their powers in such a way as to enable Mr Abramovich to achieve his own commercial goals," she added.
"I am prepared to assume that, on occasion, President Putin may have taken his views into account when making decisions, but the suggestion that Mr Abramovich was in a position to pull the presidential strings was simply not borne out by the evidence."
The judge also described Mr Abramovich as "courteous", "careful", "thoughtful" and "frank".
But she added: "I also had little doubt that, if the need arose, he would have been prepared to act ruthlessly in a business context to achieve his commercial goals."
Mr Berezovsky, 65, had claimed Mr Abramovich, 45, intimidated him into selling shares in Russian oil giant Sibneft. He was claiming £3bn ($4.7bn) in damages.
But ruling in Mr Abramovich's favour, the London Commercial Court judge said Mr Berozovsky had been an "inherently unreliable" witness.