Is it really your bank calling?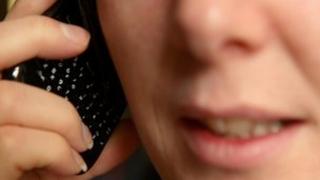 Most High Street banks are now using automated calls to alert customers to an unusual transaction and ask them if they have made it.
Santander says it is making about a thousand calls a day just to verify cheque payments. But how does the customer know it is actually the bank calling and not a fraudster trying to obtain their details?
Customers are not expecting these calls and may not know such calls even exist. Yet within a few seconds, they make a decision as to whether or not they believe this really is their bank calling.
People are normally asked to confirm they are the customer, and then to verify certain aspects of their date of birth. They are then told about a transaction and asked if they had made it.
Robert from Edinburgh recently received a call from Nationwide following a problem with his account.
He told BBC Radio 4's Money Box programme: "It began by asking me to verify personal information in order to authenticate who I was - the trouble being I didn't know who was calling me.
"For all I knew it could be akin to these email phishing scams which are asking for all sorts of personal details."
Security checks
In fact it was a genuine call from Nationwide, but Robert said he had no way of knowing that. He refused to confirm his date of birth and contacted Nationwide on a number he knew to be genuine to ask what the problem was.
David, from Leigh in Essex, had the same thought when he had a similar call from Santander following an unexpected payment he had made by cheque. He refused even to begin the authentication process by pressing any key on his phone.
He said: "On the message we got, there was no suggestion of a phone number you could phone to check it was genuine.
"You would think if you were a scammer, you could copy that message and make quite a bit of money out of it."
In David's case, the call from Santander was genuine. But it comes at a time when the Metropolitan Police and other forces are warning the public about fraudsters phoning people pretending to be their bank, and persuading them to part with their card and divulge their Pin code.
Combating fraud
Most of the biggest High Street banks now use these automated systems. The exception is HSBC, which says it uses call centre staff.
Santander said it was a very useful tool in fighting fraud.
"The automated system allows us to reach many more customers, quicker, all at the same time," a bank representative said.
"It is industry standard and part of our strategy to do this. If a customer is unhappy receiving automated fraud alert telephone calls, they can opt out of the service."
A Nationwide representative said: "Our advice to customers that receive a call and are unsure about the validity should key the caller number into the internet to check it.
"If you key this in to your search engine it will bring up the Nationwide site page that tells you all about the service."
Some customers have been told by their banks that the automated systems have been approved by the Financial Services Authority, but the regulator denied this was the case.
It said in a statement: "We don't approve individual programmes. If customers are at all suspicious about a call, take a note of the number and check it out. Never give personal information unless you know who you're talking to."
Money Box is broadcast on Saturdays at 12:00 GMT on BBC Radio 4 and repeated on Sundays at 21:00 BST.
You can listen again via the BBC iPlayer or by downloading Money Box podcast.