Newspaper review: Press covers Andrew Mitchell row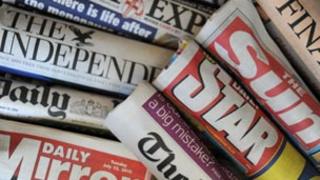 The row over the behaviour of the Conservative chief whip, Andrew Mitchell, continues to rumble.
The Sun reports that the police officer he insulted was a woman - and it concludes that "he must go."
The paper says his "spiteful little sneer" has done more damage to David Cameron than "a thousand expletives".
The Daily Mirror sees the embattled minister as "arrogant, aloof and out-of-touch" - a symbol of "all that is wrong with this rotten government".
Revival bid
The Daily Express was impressed by Nigel Farage at the UKIP conference.
It judges that the party's views are "commonsense" on a range of subjects, from grammar schools to demanding a referendum on EU membership.
Quentin Letts, of the Daily Mail, describes Mr Farage's speech as "funny, fiery, and commendably free of the usual guff from politicians."
He says of the party that it has "logic and drive" and has been, in his view, "impressively correct about Europe".
The Daily Telegraph takes the view that annual political conferences offer party leaders "a rare opportunity... to seize the spotlight."
The Financial Times says Lib Dem leader Nick Clegg's plans for his party are "the most unlikely reconstruction of a political brand seen in British politics in recent years".
His colleague, Danny Alexander, is interviewed in the Guardian.
He foresees the possibility of tensions over environmental issues.
Giraffe escape
The Sun has a photo of an Italian policewoman running down a street in Imola - pursued by rampaging giraffe.
This unusual situation for the law happened when the animal escaped from a travelling circus.
It ran free for four hours, bringing rush-hour traffic to a standstill, escaping police, vets and handlers from the Rinaldo Orfeo Circus.
The story ended sadly, however, as the animal eventually had a heart attack and died.