Soldier Lynette Pearce returns to UK with newborn baby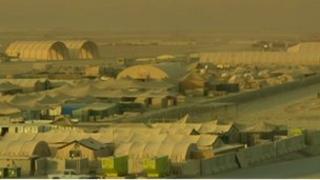 A British servicewoman who gave birth to a boy while serving in Afghanistan is back in the UK.
Lance Bombardier Lynette Pearce is believed to be receiving treatment in the John Radcliffe Hospital in Oxford.
The 28-year-old, who serves with the Royal Artillery, is said to have learned only on Tuesday that she was pregnant, after having stomach pains.
The baby was born on Thursday, five weeks premature, in the field hospital of military base Camp Bastion.
He was born four days after the camp was attacked by the Taliban who destroyed six aircraft and killed two US Marines.
A "specialist paediatric retrieval team" from John Radcliffe Hospital was sent to Afghanistan to provide care on the flight home.
The Ministry of Defence has not confirmed where the new mother and baby are.
'Unaware of pregnancy'
Originally from Fiji, Lance Bombardier Pearce is said to have left her home country last year to fulfil her dream of serving in the British Army.
The Mail on Sunday has reported that she is a keen sportswoman, who has captained the Fiji national football team.
She reportedly passed every fitness test while pregnant and completed all training, including a gruelling eight-mile march with a 35lb backpack.
Servicemen and women have pre-deployment medical checks - for example hearing tests - depending on their roles, and complete physical fitness tests, such as a five-mile run.
But women are not routinely given pregnancy tests.
The MoD said: "It is not military policy to allow servicewomen to deploy on operations if they are pregnant. In this instance the MoD was unaware of her pregnancy."
It is the first time a British soldier has given birth on the front line, although up to 200 servicewomen have been sent home since 2003 from Iraq and Afghanistan, after it was discovered they were pregnant.
Fewer than 1% of British servicewomen ever deployed on operations have had to return home because they were pregnant, according to the MoD.